Contact Us
Department of Geology and Geophysics
1000 E. University Ave.
Laramie, WY 82071-2000
Phone: 307-766-3386
Fax: 307-766-6679
Email: geol-geophys@uwyo.edu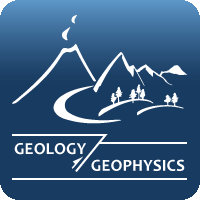 The Jackalope Undergoing Repairs for a New Voyage
December 6, 2018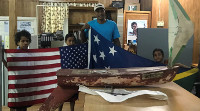 George Kaola, a teacher in the Solomon Islands, and some of his students pose with the Jackalope.
Nearly two years ago, Michael Cheadle, together with fellow Professor Barbara John and UW Lab school teacher Theresa Williams, launched a small sailboat, dubbed "The Jackalope" in the Pacific Ocean with the hope it would wash up on some distant shore and be discovered. The Jackalope traveled about 7,600 miles, during its 190-day voyage. The sailboat eventually found its way to the shores just north of the Solomon Islands. Unbeknown to Cheadle and John, the Jackalope was being followed by George Kaola, a teacher at the Kukum Seventh-day Adventist Elementary School in Honiara, the capital city of the Solomon Islands. Apparently, he had been tracking the Jackalope's journey online............ Read more in this UW news story.
Contact Us
Department of Geology and Geophysics
1000 E. University Ave.
Laramie, WY 82071-2000
Phone: 307-766-3386
Fax: 307-766-6679
Email: geol-geophys@uwyo.edu