Dr. Ken G. Dueker
Associate Professor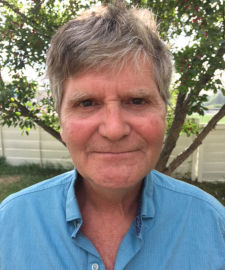 Natural Source And Critical Zone Seismic Imaging to Constrain Continental Evolution
Office Phone: (307) 742-1765 or (307) 399-9093
P.O. Box 3006, Laramie, Wyoming 82071-3006
Office Room No: 2036 Lab Room No: 2002
Email: dueker@uwyo.edu
Education
Geology, BA, Whitman College, 1985
Geophysics, PhD, University of Oregon, 1995
Seismology, Post-doc, University of Colorado, 1996-2000
In Review
Critical zone imaging of a weathered granite terrane using ambient field seismic Rg waves, I. Keifer and K. Dueker, in review, EPSL, 2018.

Testing the thermal hypothesis at the 410 and 660 km discontinuities using EarthScope seismic data, I. Keifer and K. Dueker, in review EPSL, 2018.
Publications
Ps mantle transition zone imaging beneath the Colorado Rocky Mountains: Evidence for an upwelling hydrous mantle, Zhang. Z., Dueker, K.G., Huang, H., EPSL, v. 492, p. 197-205, 2018.

Full-physics imaging of the critical zone, Wang. W., Chen, P., Dueker, K., Keifer, I., in press EPSL, 2018.

 pSIN: A scalable, Parallel algorithm for Seismic Interferometry of large-N ambient-noise data, Chen, P., Taylor, N., Dueker, K., Keifer, I, Computers and Geoscience, v. 93, 2016.
Thermal classification of lithospheric discontinuities beneath USarray, S. Hansen,, K. Dueker, B. Schmandt, EPSL, v. 431, 2015.
Seismic Evidence for Intermittant Upwelling of Hot Lower Mantle beneath the Yellowstone Hotspot, Schmandt, B., Humphreys, E., Dueker, K., Science, Dec. 2011.
K.E. Karlstrom1,*, D. Coblentz, K. Dueker, W. Ouimet, E. Kirby, J. Van Wijk, B. Schmandt, S. Kelley, G. Lazear, L.J. Crossey, R. Crow, A. Aslan, A. Darling,14, R. Aster, J. MacCarthy, S.M. Hansen, J. Stachnik, D.F. Stockli, R.V. Garcia, M. Hoffman, R. McKeon, J. Feldman, M. Heizler, M.S. Donahue, and the CREST Working Group, Mantle-driven dynamic uplift of the Rocky Mountains and Colorado Plateau and its surface response: Toward a unified hypothesis, Lithopshere, in press Dec. 2011, doi: 10.1130/L150.1.

Schmandt, B., Dueker, K., Jasbinsek, J., Zhang, Z., A sporadic low-velocity layer atop the western U.S. mantle transition zone and short-wavelength variations in transition zone discontinuities, GEOCHEMISTRY GEOPHYSICS GEOSYSTEMS, doi:10.1029/2011GC003668, 2011.

Jasbinsek, J., K. Dueker, and S. Hansen, Characterizing the 410 km discontinuity low-velocity layer beneath the LA RISTRA array in the North American Southwest, Geochemistry, Geophysics, Geosystems, doi:10.1029/2009GC002836, Feb. 2010.

Yuan, H., K. Dueker, and J. Stachnik, Crustal structure and thickness along the Yellowstone hot spot track: Evidence for lower crustal outflow from beneath the eastern Snake River Plain, Geochemistry, Geophysics, Geosystems, doi:10.1029/2009GC002787, Feb. 2010.
Hansen, S. and Dueker, K., P- and S-wave Receiver Function Image of Crustal Imbrication beneath the Cheyenne Belt in SE Wyoming, Bulletin of the Seismologic Society of America, ,doi:10.1785/0120080168, June 2009.

Calkins, J., Zandt, G. Giradi, J. Dueker, K., Geherals, G., Ducea, M., Characterization of the crust of the Coast Mountains Batholith, British Columbia, from P to S converted seismic waves and petrologic modeling, Earth Planet. Sci. Lett., Sept. 2009.

Aster, R. MacCarthy, J., Heizler, M., Kelly, S., Karlstrom, K., Crossey, L., Dueker, K., and the CREST team, CREST Experiment Probes the Roots of the Geologic History of the Colorado Rockies, Outcrop, January 2009.

 Mercier, J.P., Bostock, M.G., Cassidy, J.F., Dueker, K., Gaherty, J.B., Garnero, E.J., Revenaugh, J., Zandt, G., Body wave tomography of western Canada, Tectonophysics, August 2009.
Graduate Students
Ian Keifer, PhD
Courses
GEOL 1100 –01 Physical Geology
GEOL 1100 -02 Physical Geoogy for Engineers
GEOL5215 - Inverse Theory and Parameter Estimation
GEOL5216 - Global Seismology
Research Statement
It is increasing clear that the mantle underlying continents is much more varied than the surface topography, crustal province boundaries, or active tectonics would suggest. Most of the mantle structure underlying tectonic mountain ranges is three-dimensional in form even though the mountain ranges are dominantly two dimensional chains. Often, post-orogenic uplift of these mountain ranges, in excess of that predicted by simple crustal thickening models, is required by geologic data (thermocron, river incision, sediments). This requires post-orogenic mechanisms that can create dynamic surface adjustments such as: the removal or retrograde metamorphism of eclogite; convective removal or delamination of over thickened thermal lithosphere; or diapiric invasion of the lithosphere by an upwelling asthenosphere (e.g., diapirs from a 410 km discontinuity partially molten layer). Constraining the relative effects of these different geodynamic processes is crucial to understanding continental orogens and continental evolution in general.
Teaching Statement
I teach two undergraduate courses every year: 1) Introduction to Geophysics (Geol2005) that is a required course for our BS degree ; 2) an Intellectual Community Geology and Society course (Geol1001). I teach two graduate level courses about every other year: Inverse Theory and Parameter Estimation (Geol5215) and Theoretical/Global Seismology (Geol5216). To truly understand the material, about half of the homeworks require MATLAB (or other language if you desire) coding of the mathematical physics.