Megan Bodart:
My Nursing Career at Mayo Clinic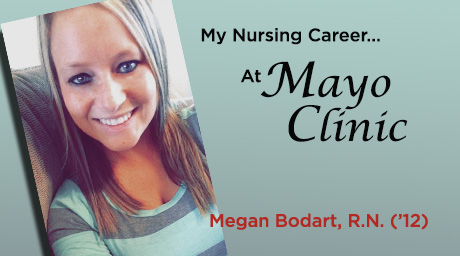 Introduction to this series:
The University of Wyoming is proud of several UW Nursing Alumni hired by the Mayo Clinic over the years. Hoping to do one spotlight covering them all, we found it impossible to get these busy nurses all together at one time for a picture! So we are spotlighting each individually, describing their exciting careers in one of the top medical practice/research groups in the world.
----------
Meet Megan Bodart, RN, BSN
2012 Graduate from UWYO Nursing
Unit at Mayo currently:
RN Extended BSN (pre-op and post-op care for an extended care outpatient clinic)
Megan Bodart has worked at Mayo for 1.5 years as a pre-op and post-op nurse for a GI and Intervention Radiology unit. "I really like working in this unit because we see multiple different procedures every day," says Bodart, "and we work with some people who have very rare diseases. I see patients from all over the world, and some of the physicians I work with are world-renowned for their skills and research."
What does she do in her unit? Bodart came up with quite the list:
"I start IVs, go through medications lists, ask about patient's past medical history, go through patient education (risks and side effects involved with each procedure), administer medications, pull femoral sheaths, float to other units, help precept new nurses to our unit, give report to inpatient nursing staff or skilled nursing care facilities, assess for pain and nausea post procedure, help conduct research projects/studies, communicate needs/concerns of patients with physician, order home-going supplies for patients, and admit patients to the hospital."
Preparing for an interview at Mayo
For all those nursing students out there reading this, you might be interested in knowing how these nurses prepared for their interviews with Mayo. Bodart said she researched the history of the Mayo Clinic and visited Rochester, Minnesota before her initial interview. She also talked with some of her friends who were already Mayo employees. Part of her preparation included reading over sample interview questions, practicing what her responses would be should she be asked similar questions.
Preparation at UW for Mayo nursing
Bodart remembers her senior capstone clinical course at UW and her placement at what was then Gem City Bone and Joint. "This [placement] really helped prepare me for this job," says Bodart, "because I was able to experience what it is like to prep people for surgery, and was able to find out what a PACU [post-anesthesia care unit] is like."
Bodart continues: "I didn't feel overwhelmed starting my job at Mayo, because I had a little bit of experience in Pre-op/Post-op while in my senior year of nursing school. I was exposed to multiple different things while at Gem City Bone & Joint, for example: post-op nausea/vomiting and pain.
The original draw to nursing remains Bodart's passion
What drew Bodart to nursing originally? She knew the medical field would always be changing and there would always be a need for healthcare professionals, so felt the career would be a secure one. But the real reason for choosing nursing for her was that she "wanted to be in a profession where I could help make a difference in someone's life every day," reflects Bodart.
Asked what her nursing passion is today, she says, "I really enjoy coming to work knowing that I am making a difference in someone's life," coming full circle from her original intention for pursuing this career. "I really enjoy the group of people I work with, and I enjoy each day I come to work."
Bodart sees herself working at Mayo for a long time, but hopes to further her education eventually. She looks forward to taking advantage of "lots of different learning opportunities" Mayo offers, another great benefit from working in such a world-renowned medical complex.
----------
Posted: 7/25/2016