Travel/Pediatric Nursing
Dani Johnson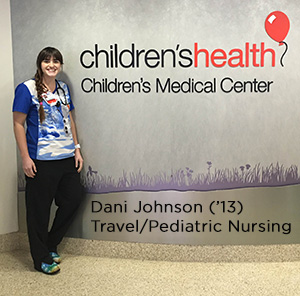 "I want to mentor students into my exciting nursing career!"
Can you see yourself traveling the United States someday as a travel nurse? Or do you have a heart for pediatric nursing? Well, we have a mentor for you: 2013 alumna Dani Johnson wants to keep involved with her alma mater, but especially with students. She has a passion for her field and would love to mentor those interested.
Email uwnursing@uwyo.edu and say, "Please link me up with Dani!"
Johnson's first job: Children's Hospital Colorado
Johnson worked as a nurse in the Surgical Multidisciplinary Specialty Center at Children's Hospital Colorado in Denver. "It is basically the surgical inpatient unit," says Johnson, "with many other specialties like rehabilitation, burns, transplants, neurosurgery, seizure monitoring, and more!" 
Taking Pediatrics into Travel Nursing
Johnson worked the job in Colorado for a few years before stepping into travel nursing. Now she takes her pediatrics bent into the travel field. She just completed a 13-week stint at Dallas Children's Medical Center in Texas, then headed off to Falls Church, Virginia for another 13-week experience at Inova Fairfax Hospital--again, on the pediatrics floor.
Travel nursing is not something you can do right out of nursing school
Travel nursing organizations look for a nurse who has a few years of experience under their belt, as Dani has. Johnson says, "You need to be able to hop right into the action and be flexible to work with whatever comes your way. Different hospitals all do things differently, so you have to be fast in finding the flow of each place and be willing to work with new people, supplies, and medical teams."
What does Johnson do in the travel nursing jobs in Texas and Virginia?
"These jobs require a lot of knowledge on the specialty you are working in," says Johnson. "Even if you don't know the answers to everything, the key is knowing where to find the answer. There is no 'typical' day as a travel nurse, but the experiences I've had so far include working with a wide variety of patients with a huge variety of diagnoses, working day or night shifts, being moved around to other units, and working with multiple professionals of other disciplines in the medical field."
Another interesting aspect of the travel nursing job, Johnson says, "is learning better ways to do things from multiple facilities and then sharing what I've learned with the places I travel to next. It is a wild ride, and you just have to be open to whatever comes your way each day! It is full of learning though!"
We hope you will take advantage of the opportunity to link up with Dani Johnson. It isn't often that an alumni just calls up and says, "I want to mentor students into my exciting nursing career!" Email uwnursing@uwyo.edu and say, "Please link me up with Dani!"
----------
Posted: 4/8/2016