Wilderness First Responders
Students earn certification "on the side"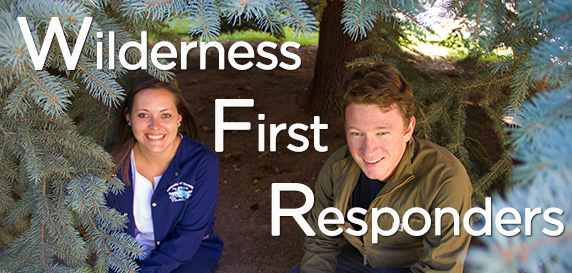 Gaining Critical Thinking Skills for the "Backcountry"
What would I do if I were hiking in the mountains and came upon someone who had been hurt?" questions Megan Rhodes. "I often think about that, and decided to take some action to be better prepared. So I enrolled in a Wilderness First Responder course through the Wilderness Medicine Institute locally. The course challenges people to gain the critical-thinking skills needed for such an event," said Rhodes. "The instructors teach you to improvise with materials you might have at hand to make a splint, for example."  Reuben Watkins elaborates: "We learned how to improvise splints and slings using things like backpacks, foam sleeping pads and layers of clothing. We also learned how to improvise traction devices for femur fractures, C-collars and tourniquets. A big part of wilderness medicine is improvisation, as it is uncommon to have access to more advanced equipment in the backcountry."
Rhodes and Reuben Watkins, both senior students in the traditional on-campus nursing program at the University of Wyoming Fay W. Whitney School of Nursing, love being in the outdoors and so were easily attracted to wilderness training. Watkins took his class at the Wilderness Medicine Institute in his hometown of Lander, Wyoming. "I had always heard that their courses were awesome," says Watkins, "so I decided it was time to find out for myself. The location of my course was at a ranch in the Wind River range outside of Dubois." Watkins said his class also included night rescue, which involved splitting the class up into groups and heading out into the woods to track down patients and treat them using only the equipment that would be commonly brought along on a day-long hike.
Inspired by UW Guest Speaker
Rhodes looked for a class nearby in Laramie after hearing a special speaker who was brought to the UW campus last year to speak about wilderness nursing. The speaker was Sheryl Olson, RN, BSN, FAWN, a flight nurse for 18 years as well as a Fellow of the Academy of Wilderness Medicine (FAWM). Olson has been educating doctors, nurses, and many other healthcare professionals for 16 years, traveling as far as Nepal, Africa, South America, and the Everest Basecamp.
Olson geared part of her presentation to focus on problems students might confront in Wyoming, addressing signs and symptoms of high-altitude pulmonary edema (HAPE), a life-threatening accumulation of fluid in the lungs at high elevations. She also told her experiences with lightning strike victims and her advice on how to stay safe oneself and save lives in such situations, topics again suitable for the audience due to proximity to Laramie Peak, where trailhead signs warn hikers to leave the mountain by 3 p.m. to avoid frequent storms and dangerous lightening.
Says Peter Skorcz, one of Rhodes' and Watkins' fellow classmates, "Olson challenged students at the FWWSON to assess critical situations and apply their knowledge and critical thinking skills to wilderness scenarios." Rhodes and Watkins took on that challenge, completing their training this summer.
A future in Wilderness nursing?
Though both Rhodes and Watkins love the outdoors and are attracted to wilderness nursing, they see their wilderness training as something they would most likely use on a volunteer basis through Search & Rescue units, for example. Right now they are both focused on their last year of nursing school, both hoping to get experience in an ER (Emergency Room). Rhodes is also interested in the ICU (Intensive Care Unit) and Watkins in Flight Nursing -- all areas in nursing that will benefit greatly from the critical thinking skills they have honed throughout the nursing program as well as in their Wilderness First Responders certification training.
- September 2015