New for Nursing 2016
Freshman Admission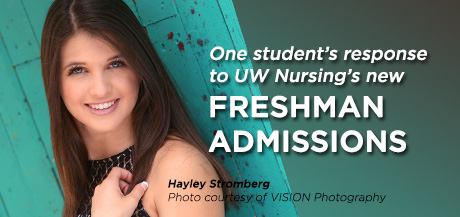 As of this fall, nursing is no longer an upper-division major, so freshmen can be admitted directly into the nursing major. What does this mean for students? According to Hayley Stromberg, new 2016 freshman admit from Colorado, the freshmen admission process was "a huge draw" for her coming to UW. "I had applied to multiple other schools," says Stromberg, "all of which had nursing programs. But Wyoming was the only one that had a freshman admittance option."
"Being admitted as a freshman alleviates the stress of having to apply to nursing programs in the sophomore year, since I am already admitted," says Stromberg. But she is realistic about the upcoming rigor of her new major: "As long as you are able to work hard and maintain the standards of the program, you will be able to graduate with a Bachelors in Nursing."
Preparing for nursing - in high school
When Stromberg was in 8th grade, she did a research project about nursing that prompted her to pursue the possibility of such a career. "Throughout the past few years, I have done some shadowing in hospitals, specifically with a nurse anesthetist--which is the field I would like to pursue." The passion building in her for nursing led her to meet with UW nursing professor and Basic BSN Program Director Holly Miller. Together they explored the criteria Hayley would need to fulfill in order to gain admittance.
After working on such criteria in high school, then submitting her UW application, she waited anxiously to see if she met the qualifications for the first freshman nursing class at the University of Wyoming. Stromberg says she was "more than thrilled" after receiving the UW nursing acceptance email. She is happy to now have a structured listing of required classes for the next four years.  That listing leads to her ultimate goal of a Bachelor's of Science in Nursing... and fulfillment of her passion to become a nurse.
More benefits with the new curriculum
Students will benefit from three semesters of pre-clinical coursework. Those semesters will be followed by six semesters of clinical coursework (one of which will be a summer semester).
What do students need for priority consideration?
For those students looking to apply for fall 2017 and beyond, do the following for priority consideration:
Apply to UW by December 1 prior to the fall semester in which you will be seeking university admission

Select "Basic BSN Pre-Nursing" as your major choice

Have at least

...a 3.6 high school grade point average

...a 23 ACT math score

...a 23 ACT science score

...a 27 ACT composite score
----------
Story posted 7/19/2016