Brooke Lensegrav
Capstone Practicum 2018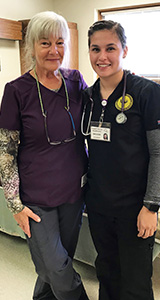 My capstone experience...
...was at Powell Valley Health Care in Powell, Wyoming. 
At first I was a little nervous about going to such a small hospital, but after spending my time here, I could not imagine having gone anywhere else. Because it is a small facility, I had the opportunity to do things that I may not have at a bigger place where I would be confined to a single department. My preceptor is mainly a medical/surgical nurse, but she would float to ICU, ER, and OB depending on the census. Being exposed to so many different kinds of nursing pushed me, and I loved every minute of it.
The biggest thing I learned: to work as a team
With a small staff, someone can always use a hand when your own duties were done for the time being. It was such a great atmosphere in which to learn, knowing that someone always had my back in return. Many times no CNA was on the floor, so the nurses would come together to make sure patients got the best care possible.
What excited me most: going to other departments
I am passionate about the ER and loved that I got to get some experience. In Powell's facility, there is only one nurse and one doctor in the emergency department. My favorite days were the days that were super busy in the ER and time would just fly by. Days like that really put a new meaning to time management and the need to be fast, effective, and safe while performing nursing skills.
What surprised me: assessments helped me the most!
Thankfully, I felt prepared for whatever was thrown at me because of what I learned in school. I was surprised that assessments were what came in the most useful. All the other nursing skills get easier with practice, but it was the assessments we perfected in school that helped me the most. It did not matter what department I was in, because I felt confident in my assessments.
Overall...
...All in all, I feel like my capstone and nursing school have prepared me for the next step. I am excited to finally be a nurse, and to see what my future holds. I have my preceptor, Robin, to thank for helping me grow and showing me what it is like to be an excellent nurse.
---
Story placed: 4/20/2018