Everyone needs a friend
A feel-good story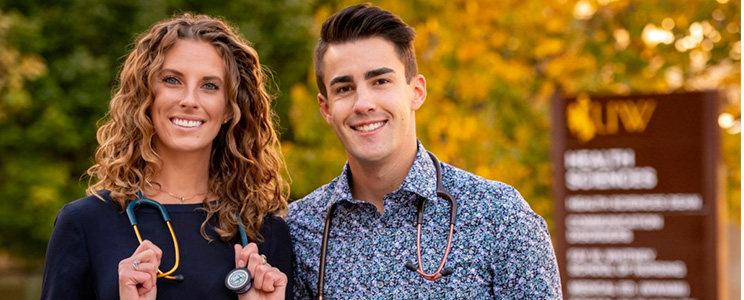 Pictured above: Lauren Hamilton and Ryan Russi
----------
Here's a 'feel-good' story about a wonderful friendship that began in UW Nursing's Basic BSN and carried into the school's DNP program, and how the friendship helped weather difficulties inevitably arising from the pursuit of lofty goals!
Introducing two great students: Lauren Hamilton and Ryan Russi 
Lauren is from Monument, Colorado; Ryan is from Murrieta, California. Both students were recruited to UW through their athletic focus: Hamilton in track, Russi in diving.
Meeting as Freshman Undergrads
Russi: "If I remember correctly our first encounter was in the classroom. We had our first college class together... Later on during our freshman year we then would see each other at the athletic study hall and we got to talking about nursing, our classes, and how we were so stressed about balancing all of that together!"

Hamilton: "Being both athletes we understood what it meant and took to be a 'Cowboy' and be a Division 1 athlete AND study for nursing school. I leaned on Ryan many times throughout our journey together. I do have to thank UW athletics as well, providing both Ryan and me opportunity to pursue our dreams as nurses and now DNPs. If we did not have the support of our coaches and athletic facilities, I don't believe we would have been as successful."
How were you supports for one another through the undergraduate "Basic BSN"?
Russi: "From the first day of the nursing program we sat at the same table, were in the same group projects, studied all the time together, and we would even carpool most of the time to our clinical rotations. Not only did we help each other out with school, but we would also de-stress together...taking time to make dinners with each other and have movie nights."

Hamilton: "We were supports to each other through studying and the ability to be friends outside of the program. We had little dinner 'dates' as we called them to de-stress over school or athletics, social life, really anything. We could separate out the school portion and be there for each other as friends and really encourage each other through the hard times."
Did you decide together to go for the DNP program, or was that solely individual decisions?
Russi: "One of the reasons I chose to go to UW was because of the opportunity to go straight into the DNP program (as I knew I wanted to be a nurse practitioner since my junior year of high school). But sometime during our first year of nursing school, Lauren told me that she also was going to apply and I was so happy! Lauren was definitely my rock during nursing school, so I was thinking that if we were both able to get into the DNP program, it would be very nice to have my rock with me again." 

Hamilton: "Originally I was going to wait to apply for the program and work as a nurse for a few years, but when Ryan said he was going to apply, I knew the only time I could go through DNP school was if we could go through it together! Same with Ryan, I love the fact we could go straight through [from undergrad to DNP] with the University of Wyoming. It has been a great opportunity for us to continue our education and be in the mode to study and have all the information we learned in nursing school fresh in our minds!"
Did you have a great celebration upon hearing that one another got accepted into the DNP Program?
Russi: "When we got our acceptance letters we were both at competitions (typical student athlete lives), so it was hard for us to celebrate when we were so far apart. I remember finding out as I was at the airport. We both immediately called each other to see if we both got in (which we did). We both started crying and were so happy, knowing that not only did we get into the program, but ...

Hamilton & Russi: "...that that we would have our best friend by our side the entire time."
What made you want to pursue the UW DNP Program?
Russi: "The DNP program at UW was very appealing to me because they accepted new grads, and it tied into my goals as an athlete and as a student. By choosing to continue school at UW, I was able to continue my education in a field that I absolutely love, all the while being able to compete one more year in the sport I loved. All around, it was a very easy choice to pursue my graduate education at the University of Wyoming."

Hamilton: "I really wanted to continue to attend UWs program because it felt like home to me. I loved the class size and how they accepted new grads...I love the community of Wyoming and how willing people are to help you. Now, being in this program, I can see how much Wyoming and our professors do for us. We get a phenomenal education."
What do you want to do after graduating with your DNP?
Russi: "I am a little different than Lauren in the sense that I don't think that I will go back to school, nor do I think I need to. One of the nice things about getting a FNP degree is that you are essentially a 'jack of all trades,' so there are a lot of different paths I could take. One interest is possibly working with the Los Angeles Fire Department on their ambulance NP Units. Essentially, I would be riding along on an ambulance with a firefighter and taking calls to go and assess/treat patients.

"The reason I am interested in this career path is that it embodies the ideals of the UW DNP program. While the UW program is all about providing rural healthcare, the basis of that philosophy is to provide quality medical care to people who would otherwise not be able to access that. This is something that has always resonated well with me and is something I intend to take with me into practice."

Hamilton: "Ideally, I want to make an impact in people's lives, taking their health care personally. I would love to work in a family practice clinic and do chronic disease management along with women's health--an area we can expand on and about which we can educate more people; same with chronic disparities...

"Regarding education, I don't think I'll ever be done! I always want to learn and prepare myself to help people. I would like to go on mission trips or be a part of projects where they go to third world countries and focus on the basic form of health care (vaccinations, sanitation, basic medications, etc) and educate. I want to help make the community better and more sustainable. I want to have the resources and knowledge to help such community members who need medical care. I will always be a life long learner in order to be prepared for my future patients."
----------
We are looking forward to hearing "the rest of the story" - when Russi and Hamilton write back as alumni to share with us about their nursing careers... and how they are still maintaining their "rock" of a friendship!
----------
Page updated 10/15/2019