Hayley Stromberg
Student Profile

Above: Hayley Stromberg (above right) and her cousin Sarah enjoy their first-ever ride on a camel during a trip to Israel this January.
----------
BIRTHRIGHT TRIP to ISRAEL
Senior nursing student Hayley Stromberg experienced a life-changing winter break experience in January 2020. Hayley, her brother, Nathan, and cousin, Sarah, decided to take advantage of "Taglit-Birthright Israel" Foundation's gift of an educational trip to Israel for 50,000 young Jewish adults each year, strengthening their understanding of their great heritage, history, and homeland. "This trip has been talked about in my family for years," says Hayley. "It's a once-in-a-lifetime experience to be able to go back to Israel and see our roots." Read on for Stromberg's story…
I AM BEYOND GLAD…that I went on my Birthright trip

This opportunity allowed me to take a moment to breathe, relax, and think back to the things I love and what is important to me. I am also glad I went to Israel, because in Wyoming there aren't a ton of Jewish individuals! Plus, being able to meet so many people who come from similar or different backgrounds, but believe in the same core values, was really great to be around. I was able to understand where the Jewish values and ideals stem from, and being able to see it firsthand was indescribable.
MOST EXCITING PART OF TRIP

One of the most exciting and fun-filled days was when we got to go to the desert and learned about the Bedouin people! The Bedouins were Arab nomads who lived in clans/big groups. They believe in many gods, spirits of ancestors and of nature, bravery, loyalty, and hospitality. We were able to sit down with some of their leaders, hear about their lifestyle, how they survive in the desert, and how they raise their families as well.

During this time, our group bonded as we enjoyed a bonfire and all slept in the same huge tent! We rose super early to see the sunrise, then hiked Masada (a famous ancient mountaintop fortress known as the 'Site of the Jews'). After hiking, we rode camels—INCREDIBLE! We then traveled to Jerusalem and went to the Dead Sea--all in the same day!

AFFECTING THE FUTURE & LOOKING THROUGH DIFFERENT LENSES
I already want to go back to Israel. Being a staff member of one of these trips would be incredible. I also would love to go back and do more exploration of some of the cities, such as Tel Aviv and Jerusalem. This trip has definitely fueled my travel fever! It also showed me a lot about my family's culture and roots.
The more trips like these that are offered, the more of a difference we can make for the future. Even in the medical field, you never know what a different perspective can show you or how you can approach things differently, and this trip showed me how to look at things through different lenses.
MY FAVORITE PICTURE
The coolest picture for me [that I shared for this article] would definitely be the one where I am standing with my brother and cousin at the Western Wall. When we got to the Wall, I had one word for it: powerful.
The Western Wall is the only wall remaining of the Second Temple of Jerusalem—still standing after 2000+ years. A place of prayer and of pilgrimage, this site is visited by most everyone who travels to Israel. The wall separates guys to one side and girls to the other, a custom followed closely by Orthodox Jews. But a place is being made on the wall for those girls and guys who want to pray together.
A common thing to do at the Wall is to write notes and place them in the cracks of the wall, which I did. I was in awe of what was in front of me as I stood in front of the wall. Being there in such an historic place—one that has been there for so long—and then knowing I am now a part of having been there… the feeling was honestly unspeakable.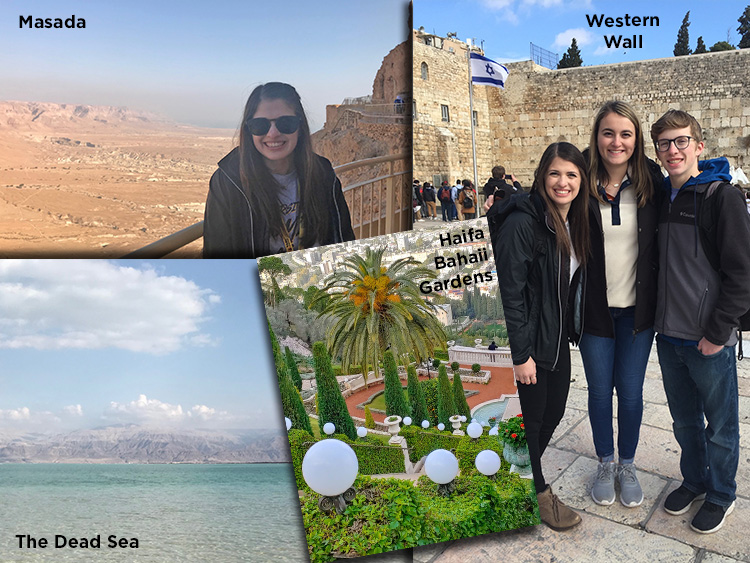 ----------
Story placed: 2/24/2020