From Dispatcher to Nursing:
Darcey Cowardin's Story
Equipped with a bachelors degree in Spanish, Darcy Cowardin wanted to find a job where she could put her knowledge to work. Having taken Spanish classes since 6th grade, traveling to Mexico in high school and to Spain and Madrid during her college studies, she thought she would become a Spanish teacher. It took her until the junior year in college to come to the realization that she had chosen the wrong career path.
Following graduation, she decided to start working as a police dispatcher with the UW Police Department. Did she use her Spanish much? "No," says Cowardin, "But I found that I loved helping people in times of crisis." She stayed in one of the most stressful jobs on the market for five years, almost twice as long as most people can stay in such a job. It is estimated that the turnover rate for dispatchers is about two to three years.
But Cowardin never mentions the stress of the job. She only elaborates about one problem: "As a dispatcher, I led people to help, but never knew what the 'rest of the story' was. I wanted to take an active role in helping people in crisis; to be involved in the solution of people's problems." With that knowledge in hand, Darcy decided that nursing would be the correct path for her.
Cowardin will be a senior this coming fall 2012 in the University of Wyoming Fay W. Whitney School of Nursing program, and at the same time is raising two small boys with her husband (a UW police detective she met while a dispatcher). She is thankful for the responsibilities of family, and also thankful for having a former college degree. "I didn't have the drive required for the nursing program when I was 21 years old! Having a family forced me to get organized, to set priorities, to have good time management – which I need for this nursing program."
What does Darcy think will make her a great nurse? "Patience. Nurses who take the time to listen, to care--but don't make me think that they are busy--make a big impression on me. That's the kind of nurse I want to be."
So will she use her Spanish? Let these statistics from the U.S. Census Bureau more than hint at the answer: Spanish is the language of more than half of all non-English speakers in America, making it the second most common language in the nation. There are currently more than 32 million Hispanics in the United States, which means that about one of every eight Americans is of Hispanic descent. That number is projected to steadily increase to 98 million – one in four Americans – within the next 50 years.
Nursing + Spanish? Darcy Cowardin will be sure to use both. 
---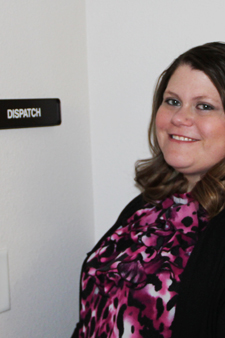 Darcey Cowardin outside the Police Dispatcher's office at UW.