From Bolivia! -
David Cortes
"The Secret to Success"
At the recent Laramie High School 2012 Commencement, the New York Times best-selling novelist C.J. Box told a story about the secret of success. Box was asked to come to meet with a man who told him he would give him the "One Secret of Success". Box was heady with excitement as he eagerly prepared himself to embrace this great truth. The man said, "Find out what you want to do, and then do it."  Box nodded his head in agreement, and said, "Yes!  Now what is the secret of success?"  Well, that was it:  Find out what you want to do, and then do it.  Sounds so simple, but underlying the simplicity is the hard work, perseverance, determination, and vision that can bring about "success."
And that's what senior nursing student David Cortes seems to have. Cortes came to the United States from Bolivia when he was 18 years old. He had not studied English prior to arrival. So you would think his accent would be pretty heavy - but you can't detect an accent unless you hear him talk at length -- and only then just a slight hint. One of the school's nursing faculty who has worked closely with David this past year teaching him vital nursing skills was amazed when recently told of his background, thinking it stunning that David had gained such a commandment of the English language in such a short time. How did he do it? Cortes said he learned English by watching lots of movies with English sub-titles. 
In a situation where only 48 students are accepted into the last two years of the traditional on-campus nursing program, and where applications to such a program are usually double what can be admitted, you would think that students from other countries would have difficulty getting a foot in the door in this rigorous academic major. International students have huge challenges as they strive to command a new language, to learn a new subject matter in that language, and to learn to communicate with their peers and professors in a second language – and in the nursing field, it is vital that they are able to communicate well with patients. But David is one of five international students in the senior class this coming fall. He is from Bolivia; two students are from Ethiopia; and two students come from Nepal.  What does that say about their hard work, perseverance, determination, and vision – and what does that tell us about their capacity for success in the future, based on Box's "Secret to Success"?
Perceived Benefits
Not only do David and the other international students benefit through their own hard work and perseverance, but so do the faculty and the students' classmates. As noted in Pandit's article, "The Importance of International Students on Our Campuses", "There are very clear pedagogical benefits to having international students in the classroom. Their presence enriches class discussions as the students share their experiences and stories from a different culture." Each fall senior students are allowed to sign up to go to Honduras on a UW nursing brigade for an international clinical immersion experience. David is looking forward to being helpful on that trip, not only in serving as an interpreter to overcome the language barrier, but in acting as a model and guide for his fellow students in regards to embracing a different culture. For example, "Here we do not hug strangers, but in Honduras it is expected!" says Cortes. 
The draw to nursing
So what drew David into the nursing field? He came to UW thinking he would major in chemical engineering, since his country normally sees that specific field as a male calling. But when he walked into the Chemical Engineering building and saw framed math calculations, he felt he was in the wrong place. Following encouragement from his mother to pursue healthcare, he became and worked as a Certified Nursing Assistant (CNA) in a local assisted living facility and found that he had developed a liking for taking care of people.
The future?
And what does he want to do in the field of nursing when he graduates next year? A few months ago he aspired to earn acceptance into a nurse anesthetist program back east. But after some clinical rotations in the cardiac catheterization lab, he has another potential interest in acquiring an M.D. in Cardiology. Many students change their focus with every new clinical setting, finding that they love many areas of nursing, of healthcare, of medicine in general. But that's what it's all about at this stage of the game:  discovering your passion. Or, as C. J. Box learned, "Find out what you want to do, and then do it." So once Mr. Cortes settles on what he wants to do, our guess is that he'll do it with the same dedication, perseverance, and hard work that brought him to the University of Wyoming in the first place. We look forward to following his career!
---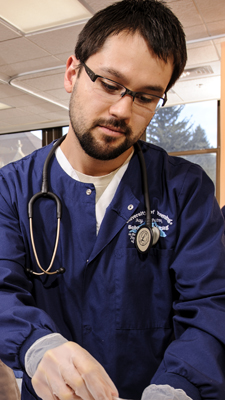 David Cortes practices nursing skills in the school's Clinical Simulation Center.