2012 March of Dimes
Student Nurse of the Year
Geraghty Berntson

Geraghty Berntson, current student in the University of Wyoming Fay. W. Whitney School of Nursing BRAND (accelerated) program, was awarded a "Student Nurse of the Year" award for Wyoming by the March of Dimes. This statewide Eighth Annual Nurse of the Year Awards Celebration, held in early November in Casper, recognized Wyoming nurses in 19 categories.
Berntson's Background and Nomination
Berntson's current focus in nursing was preceded by earning a BS degree in Athletic Training and Kinesiology from California Lutheran University. She was employed at Chiropractic Sports Institute of Westlake Village and also California Lutheran University, gaining over 1000 hours hands-on experience as a Board Certified Athletic Trainer. "In her work as an athletic trainer," states her nominator, "this dynamic young lady enjoyed the interactions with the patients. She enjoyed helping them and teaching them how to improve their lives through the goals they were working towards together. She has even been seen having a compassionate conversation with a simulation manikin!  She is using that same compassion in her nursing clinicals and sees the residents and patients as individuals. Geraghty is active in her community and is a youth swim team coach.  She will be a professional, genuine, compassionate, and fun nurse with whom everyone will enjoy working!"
More about Geraghty
Berntson is originally from Gillette, Wyoming. She says, "After 18 years I shot out of town and ran to the California Coast for my first undergrad degree. After four years of school and one of professional experience I was aching to get back to the open spaces of Wyoming. The University of Wyoming provided the perfect opportunity to pursue nursing while gaining real-life hands-on experiences all over the state.  I'm not sure what exact population I will want to serve with my nursing, but I'm sure this question will be answered in the coming year while enrolled in the BRAND nursing program. I am looking forward to a broad range of experiences and exposures. If growing up in Wyoming has taught me one thing, it's to keep your eyes on the horizon for new opportunities."
More about "BRAND"
The BRAND nursing program at the University of Wyoming is an accelerated Bachelor of Science in Nursing (BSN) outreach program for students with previous non-nursing baccalaureate degree who desire to become a registered nurse.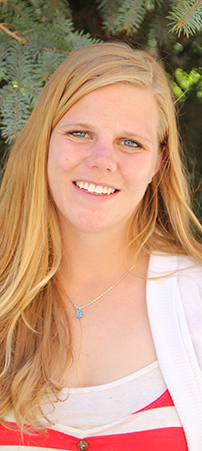 "Geraghty will be a professional, genuine, compassionate and fun nurse with whom everyone will enjoy working!" states her nominator.