Capstone Practicum: Megan Lee
Hot Springs County Memorial Hospital...
When other nursing students ask what floor I'm working on for my Capstone, I usually just tell them the floor because Hot Springs County Memorial Hospital in Thermopolis, Wyoming only has one floor. Despite it's size, I have had the most wonderful experience working there for my senior practicum.
I cannot say enough about my time at the hospital in Thermopolis. Going into it, I thought I would not see much at such a small hospital, but boy was I wrong! Because it was a small hospital, I got to see a little bit of everything rather than just one floor or specialty. The staff at the hospital were great about pulling me in on all sorts of experiences. Everyone from the doctors to the environmental services were so good to me.
I got to work in the Emergency Room, the Operating Room, help with chemotherapy infusions, provide wound care, do fetal monitoring and so much more! I tell people who ask about my experience that I have gotten to do everything from helping babies be born to cleaning a gunshot wound.
Even though a small town does not have a high volume of births on a daily basis, I still got be in on several births. I hope to be an OB nurse after I graduate, and the preceptor I was placed with had a lot of OB experience, so I got to learn so much from her.
On my last days there, I got a really sweet card from my preceptor and Nurse Manager and flowers from the nursing staff. I felt so welcomed, and I know I have some wonderful mentors who have made themselves available to me as I go on in my nursing career.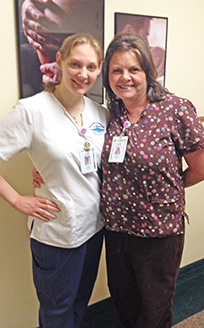 When other nursing students ask what floor I'm working on for my Capstone, I usually just tell them THE floor because Hot Springs County Memorial Hospital in Thermopolis only has one floor... [but] because it is a small hospital, I got to see a little bit of everything... from helping babies be born to cleaning a gunshot wound. [pictured: Lee and her preceptor, Patty Sue Hackleman]