School of Energy Resources Welcomes Two New Members to Energy Resources Council
June 24, 2022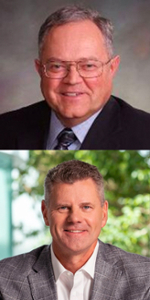 The School of Energy Resources (SER) is pleased to welcome Representative Don Burkhart of the Wyoming Legislature and Chad Teply, the Senior Vice President of Project Execution for Williams as the newest board members to the Energy Resources Council (ERC).
Appointed by Governor Mark Gordon and confirmed by the Wyoming Senate, Burkhart and Teply replace the seats formerly held by Representative Mike Greear and Tom Botts, a retired Executive Vice President for Royal Dutch Shell.
"I offer a warm welcome to our newest ERC members, Representative Don Burkhart, who has long been familiar and engaged with SER, and Chad Teply," says SER Executive Director Holly Krutka. "We offer our gratitude to Representative Mike Greear and Tom Botts for their years of service on the ERC, and extend a huge thank you to all our board members for all they do to support SER and the state of Wyoming."
A member of the Wyoming House of Representatives for District 15, Burkhart was first elected to the chamber in 2010 and assumed office in 2011. From 2017 to 2018 he served as the House Speaker Pro Tempore. Currently, he is an important member of the House Minerals, Business & Economic Development committee among others, and is the Chair of the Select Federal Natural Resource Management committee and the House Transportation, Highways & Military Affairs committee.
Burkhart earned a B.S. in Physics from John Carroll University. Before assuming office, Burkhart worked as a safety engineer for BP America Production Compact and served on the Board of Directors of the Wyoming-Montana Safety Council.
Teply became Senior Vice President of Project Execution for Williams in May 2020. He is responsible for successfully delivering projects across the company's footprint through project management, construction, environmental, regulatory and permitting, facilities and land management functions. He previously served as Senior Vice President, Business Policy and Development for PacifiCorp, as well as the Vice President, Resource Development and Construction at PacifiCorp previously.
Before joining PacifiCorp, Teply served as Director of Engineering for Northern Natural Gas and also held engineering and project management roles at other energy industry companies based in Iowa and Illinois. Early in his career, Teply was a project engineer assigned to the construction of Williams' Pine Needle LNG facility. He earned his B.A. in mechanical engineering from South Dakota State University.
The ERC was established by Wyoming statute 21-17-117(e) to guide SER in setting priorities for energy-related academics, research, and outreach. The thirteen-member board consists of leaders from industry, the legislature and UW, and is tasked with providing direction for responsive, internationally recognized, interdisciplinary energy-related programs that are integral constituents of the university's identity.
The board will convene today for a regularly scheduled quarterly meeting.