School of Energy Resources to Host Annual Meeting for CORE-CM project in Powder River Basin
August 10, 2022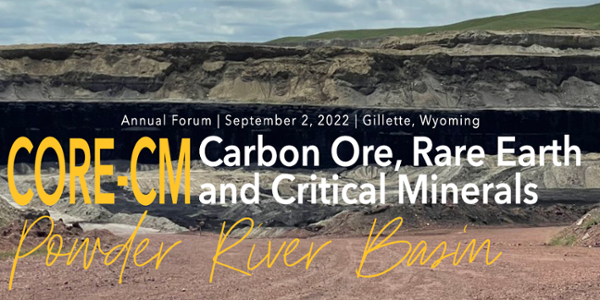 The School of Energy Resources (SER), along with project partner Gillette College, will host the first annual forum for the Carbon Ore, Rare Earth, and Critical Mineral (CORE-CM) project in the Powder River Basin.  
The event will take place on August 31 and September 1 at Gillette College in Gillette, Wyo. 
The annual forum is part of the project directive to form a coalition of private industry, university, and state, local, and federal government in an effort to stimulate regional economic growth and employment opportunities in prominent coal basins. 
The DOE awarded project is part of a national strategy to finding alternative domestic sources of rare earth elements and critical minerals, as well as to focus on expanding and transforming the use of coal and coal-based resources to produce coal-based products using carbon ore. 
The forum will allow stakeholders and project partners to discuss ideas, address challenges, and find solutions towards the development of a viable domestic supply of rare earth elements, critical minerals, and other valuable products. 
"If an REE industry is going to be a reality, it is only going to be achieved through collaboration and cooperation," says SER Project Manager, Erin Phillips. "All parts of the supply chain are essential, so the idea behind getting anything off the ground is to bring as many people into the fold as possible. That will help  break down silos and move this forward together." 
Featured speakers during the plenary session include Kelly Rose, Technical Director of the Science-based AI/ML Institute at the National Energy Technology Laboratory, Research and Innovation Center; Glen Murrell, Executive Director of the Wyoming Energy Authority; Jim Atchison, Executive Director of the Southeastern Montana Development Corporation; and Tom Kaiserski, Industry Development Program Manager of the Montana Department of Commerce, Research, and Information Services Bureau.  
"We are grateful for our keynote speakers," says Phillips. "They will be able to provide some big picture insights at both the federal and state levels, and their shared expertise will offer direction for the industry and community stakeholders on the ground." 
In addition to providing project updates, the forum will also  break into sessions addressing various topics along the REE supply chain including workforce development and training, utilization of waste streams for REE recovery, carbon ore to products, and basin-wide infrastructure.  
Phillips, who also serves as the Principal Investigator (PI) on the project, says the breakout sessions provide the opportunity for participants with a vested interest or expertise in those areas to connect with peers.  
"We are looking forward to some robust discussions and hope that folks will come away with new ideas and partnerships," she says. "The event is open to any interested stakeholder — be that industry, business or community level — especially those located within the Powder River Basin of Montana and Wyoming." 
Finally, the forum will also showcase some of the existing infrastructure and energy innovation facilities that exist within the City of Gillette and surrounding area that will feature prominently in the advancement of the CORE-CM supply chain. Attendees will have the opportunity to join an optional tour to the Wyoming Innovation Center, Area 59 Facility, and Gillette College. 
To register for the conference or to view the schedule, visit the conference webpage at http://www.uwyo.edu/ser/events/conferences/core-cm-annual-forum/index.html  
For more information, email Christine Reed, SER Outreach Director, at christine.reed@uwyo.edu. 
A similar CORE-CM forum will take place in Rock Springs on October 20 addressing similar topics in the Greater Green River Basin and Wind River Basin.