Dept. of Theatre & DanceUniversity of Wyoming 1000 E. University Ave.Dept. 3951 Laramie, WY 82071-3951(307)766-2198e-mail:
jchapman@uwyo.edu
Students electing to major in Theatre and Dance at the University of Wyoming have a choice of several undergraduate degrees.  Our highly competitive program offers several BFA concentrations, as well as general BA degree options and minors, in both Theatre or Dance.
The department also offers advanced training through practicum courses and senior projects and theses.
Those interested in musical theatre may also audition for the Opera Theatre Workshop or take part in our Musical Theatre Workshop.
Degree Program Overview
BFA in Theatre
Dance

BA with a Major in Theatre or Dance BA "Self -Designed Major" (musical theatre, composition, choreography, etc.)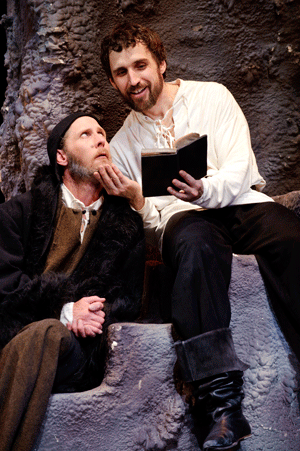 The 2010 production of HAMLET featured alumnus Pete Simpson, Jr., in the title role and his father, Professor Emeritus Peter Koi Simpson, as the Ghost of Hamlet's Father.