Dept. of Theatre and Dance
Dept. 3951
1000 E. University Avenue
Laramie, WY 82071
Phone: 307-766-2198
Fax: 307-766-2197
Email:
jchapman@uwyo.edu
BFA in Design/Tech
The
Bachelor of Fine Arts
concentration in
Design/Tech
is designed primarily for those students who wish to pursue additional pre-professional training in the technical and design areas of theatre and dance or for those preparing to enter M.F.A. graduate programs.
Required courses for the BFA in Design/Tech are listed here.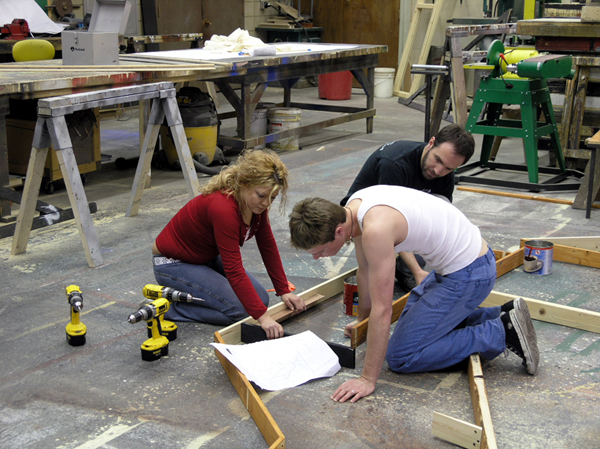 Our B.F.A. concentration in Design/Tech offers students the rare opportunity to gain hands-on experience early in their college careers in all aspects of design and technology, including:
Costume design, construction, crafts, patterning, and draping;
Lighting methods and design, sound design, and lighting CAD;
Scenic design, drafting, CAD, and scenic painting.
Upper-level students have the opportunity to petition to serve on the production staff of a departmental production as a designer or technician.
UW Design/Tech alumni have received national acclaim, including: Ramsay Avery, film, THE COSBY SHOW; Michael Earl, Hallmark Hall of Fame TV special THE PIANO; Rick Willingham, CEO of the Blue Man Group (USA); Lee Everitt, Chief Pyrotechnician, Universal Studios, Orlando; James Soden, Chief Electrician, Vee Corporation, Sesame Street Live. UW Theatre & Dance graduates have gone on to study at Yale School of Drama, UCSD, USC, Carnegie Mellon, and many other top programs. UW Design/Tech students have won several regional KCACTF design awards and competed nationally at the Kennedy Center in Washington, D.C.