Dept. of Theatre and Dance
Dept. 3951
1000 E. University Avenue
Laramie, WY 82071
Phone: 307-766-2198
Fax: 307-766-2197
Email:
jchapman@uwyo.edu
BFA in Musical Theatre Performance

The Bachelor of Fine Arts (BFA) in Musical Theatre is a pre-professional degree with an emphasis on singing styles specific to Musical Theatre and actor training, as well as additional training in dance, voice and dialects, directing, technical theatre and design, and stage movement and combat.
Required courses for the BFA in Musical Theatre Performance are listed here.
Performance opportunities are many during the regular production season, as the department is focused on undergraduate work and actors.  Many more opportunities open up for student actors in Musical Theatre workshop, during the annual one-act play festival, in senior projects, and in productions sponsored by our recognized student organization, the Associated Students for the Performing Arts (ASOPA).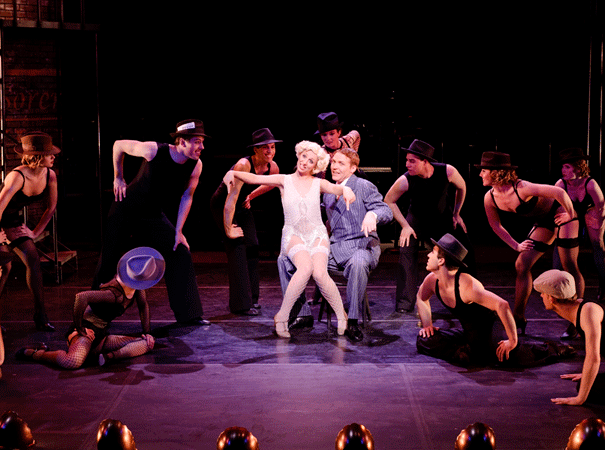 UW student actors can become involved in the department's work on every level, from performing in shows to directing to working as part of a technical company, which provides fantastic hands-on training.
UW student Musical Theatre actors have gained both regional and national recognition in recent years.  We offer a wonderful mix of Musical Theatre related courses in the department, including:
Musical Theatre Applied Voice: Singing instruction specific to the needs of Musical Theatre performers, including instruction in Belt and Lyric (Legit) techniques, as applied to songs from the Musical Theatre repertoire, and other commercial styles such as pop, country, and jazz standards.

Dance Courses: A minimum of five semesters of dance are required for the degree, and includes instruction in Ballet, Jazz, Tap, and/or Modern.
Musical Theatre Workshop: A course focusing on the production of Musical scenes or complete Musicals in a workshop setting, designed to give an opportunity to synthesize all the various elements of Musical Theatre performance.
Beginning Acting: A fundamentals course covering given circumstance, fourth wall, sensory work, emotional work, improvisation, scoring (objective/obstacle), endowment, and basic scene work, generally concentrating on contemporary realism.
Intermediate Acting: A "methods of characterization" course, utilizing various approaches to creating a character, including essence work, extensive character biography study, and script analysis. The course includes extensive scene work and also extended one-person monodramas.
Acting Styles: A "genre" course, covering Farce, Comedy of Manners, Chekhov, Shakespeare, and contemporary classics using extensive scene work and monologues. This course can be extended through independent study, usually focusing on Shakespeare, (scansion, imagery, linguistic individuation studies, etc.)
Advanced Scene Study: A course which focuses on individual actor "problems and challenges". Students are assigned scene work and monologues that allow them to focus on a variety of obstacles, including movie scripts, teleplays, non-realistic pieces, original plays in development, and ensemble work.
Auditioning and Professional Issues: A "business" course that focuses on the audition process, preparation for graduate training program auditions, TV commercial auditioning, as well as contracts, unions, internships, and resume/photo preparation.