Life Sciences Graduate Programs
The tremendous strength of the Life Science graduate programs at the University of Wyoming is derived from their truly interdisciplinary approach to research.  The UW's location in Wyoming's relatively undisturbed landscape creates an ideal setting for life sciences study.
Programs in this field
Agronomy, M.S. and Ph.D.
Animal and Veterinary Science, M.S. and Ph.D.
Biomedical Sciences, Ph.D.
Botany, M.S. and Ph.D.
Ecology, Ph.D.
Entomology, M.S. and Ph.D.
Food Science and Human Nutrition, M.S.
Molecular and Cellular Life Sciences, Ph.D.
Molecular Biology, M.S. and Ph.D.
Natural Science, M.S. and M.S.T.
Neuroscience, M.S. and Ph.D.
Rangeland Ecology and Watershed Management, M.S. and Ph.D.
Zoology and Physiology, M.S. and Ph.D.
Share This Page:
Molecular Biologist Hermann Schatzl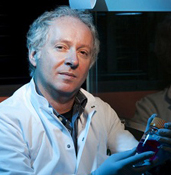 Molecular Biologist and Munich native, Dr. Hermann Schatzl studies ways to contain the spread of chronic wasting disease in the event of the disease becoming transmissible to humans.