Wyoming Institute for Disabilities
Dept. 4298, 1000 E. University Ave.
Laramie, WY 82071
Phone: (307) 766-2761
Toll Free: 1-888-989-9463
TTY: 1-800-908-7011
Fax: (307) 766-2763
Email:
wind.uw@uwyo.edu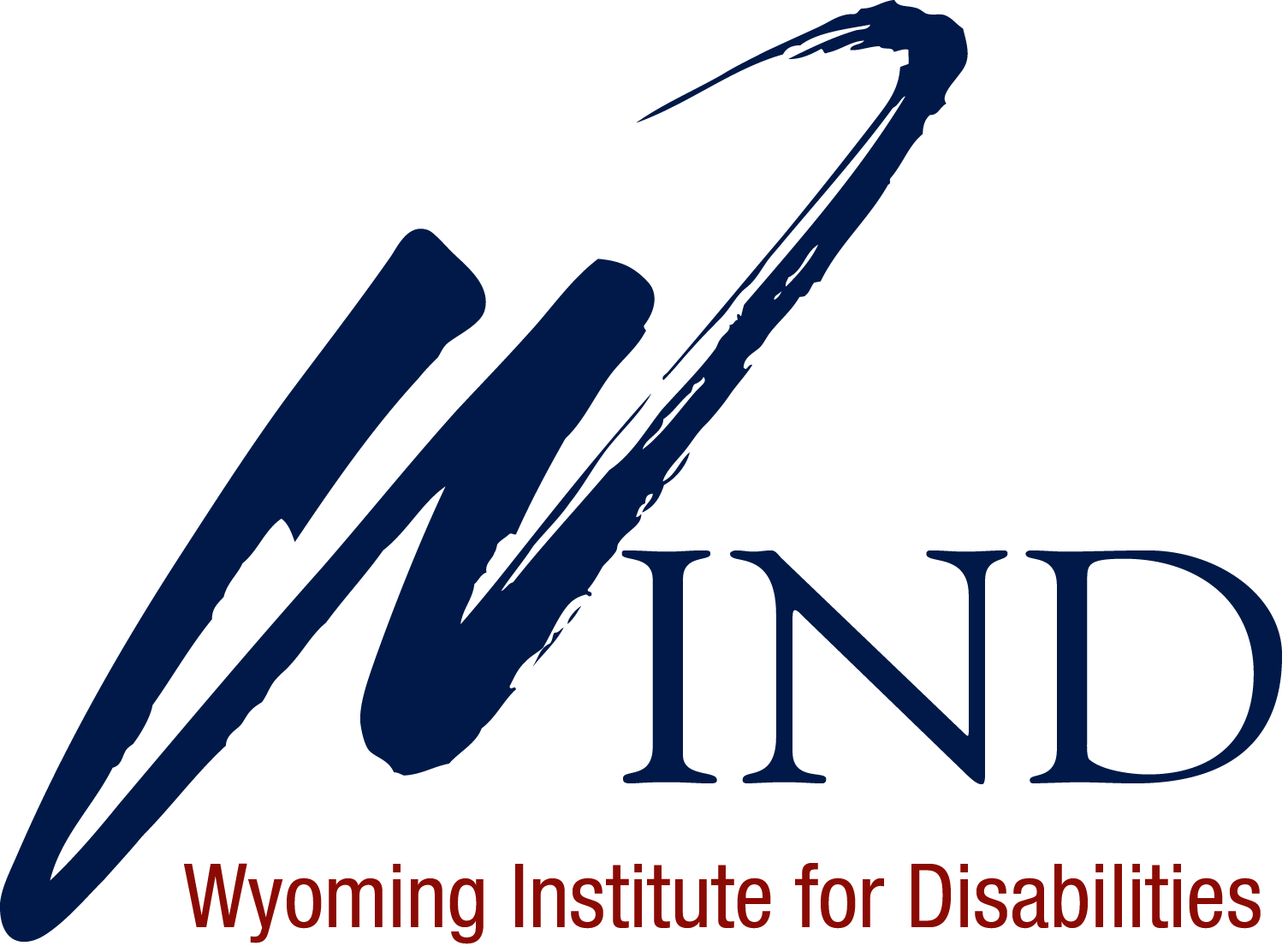 Projects and Programs A-Z
A|B|C|D|E|F|G|H|I|J|K|L|M|N|O|P|Q|R|S|T|U|V|W|X|Y|Z
Accommodations Guide
The Wyoming Institute for Disabilities contracted with UW's Wyoming Survey & Analysis Center (WYSAC) to conduct a survey of Wyoming restaurants and lodging facilities that offer accessible accommodations. The printed guide is now available. Please contact (307) 766-2561 if you would like a copy or copies.
Sandy Root-Elledge, John Paul Harris, and Sandy Hubert
The CoP-T is a project designed to improve the transition outcomes for students with disabilities.  Three small communities have been convened to address improving the transitions of students a) from early childhood programs to the school districts; b) from secondary schools to post-secondary education, employment and community living; and c) with social and emotional needs to and from behavioral interventions.  The communities will develop a guidance document for the Wyoming Department of Education by December 2013 that will recommend improved transition practices for every school district in the state.
The CAC consults with the WIND Executive Director regarding the development of the UCEDD's five year plan, reviews and comments annually on WIND's progress in meeting the projected goals contained in the five year plan, and makes recommendations to the WIND Executive Director regarding and proposed revisions to the five year plan.
Disability studies is a diverse interdisciplinary field that investigates broad questions about the nature, meanings, and consequences of disability from interrelated social, historical, cultural, and political perspectives. The undergraduate minor in Disability Studies examines disability issues from multiple lenses.
Improving Health Care Access for People with Developmental Disabilities in Wyoming
The goal of the research project is to establish a baseline of access to health care providers for people with developmental disabilities in Wyoming and to explore opportunities to improve access to health care specialists, especially dentists, optometrists, and mental health providers.
Infusion Units
The staff of WIND provides guest lectures about various aspects of disability.  These lectures are called Infusion Units because they are designed to be easily integrated into classroom topics and issues. The most popular unit is "Disability Etiquette", and is provided to numerous colleges and departments each semester.  Other units are "Disability History", "The Basics of the Americans with Disabilities Act", and "Assistive Technology in Education".
The goals of the Infusion Units are to familiarize college students about disability issues, so that they may more effectively interact with people with disabilities, understand the social or minority model of disability and consider the value of Disability Studies as an academic field.   Content, activities and readings for students vary depending on the students' class standing, freshman through graduate level.
Inventory of Client and Agency Planning
The ICAP is a standardized measure that yields an estimate of a person's adaptive functioning, the extent of behavior problems that may limit their inclusion in various settings, as well as a systematic review of all available evaluation data. ICAP scores are used by the Wyoming Department of Health, Developmental Disabilities Division as part of the basis for determining eligibility for funding within the Developmental Disabilities service system. The Developmental Disabilities Division contracts with WIND to conduct ICAP interviews throughout the state and is responsible for conducting initial, emergency, and continuing eligibility interviews. More than 600 interviews are conducted each year.
Medicaid Buy-In Program
The purpose of the Employed Individual with Disabilities EID program is to provide a work incentive for individuals with disabilities. People with disabilities who are employed, have a disability based on Social Security Administration guidelines, are both a US citizen and a Wyoming resident, are between ages 16 and 64 and meet income guidelines, may be eligible to apply and should contact their nearest Department of Family Services (DFS) field office. Through this program, people with disabilities who work will pay a monthly premium for their Medicaid health-care coverage rather than lose this coverage.
Medicaid Infrastructure Change Grant (MIG)
Wyoming's first MIG grant was awarded in 2001 based on Congressional funding to the Centers for Medicare and Medicaid Services (CMS) under the Ticket to Work and Work Improvement Incentives Act of 1999 (TWWIIA). The primary target of MIG funding is enhancement of competitive employment for people with disabilities.
Community Services projects seek to pull together the spectrum of local service and support programs available for people with disabilities for integration and coordination. Community Services projects underwrite full inclusion in all aspects of life, which contributes to personal success and successful employment for all community members.
URLEND-WIND Collaboration
WIND is a partner in a regional LEND program conducted jointly by the University of Utah School of Medicine - Department of Pediatrics and the Utah State University - Center for Persons with Disabilities. LEND programs provide long-term, graduate level interdisciplinary leadership training as well as interdisciplinary services and care. URLEND (Utah Regional Leadership Education in Neurodevelopmental Disabilities) uses teleconferencing technology to conduct its weekly training sessions. The other regional participants in the URLEND program are the Idaho, Montana and North Dakota UCEDDs. In addition to basic leadership and clinical training, URLEND provides specialized training in Autism and Infant/Pediatric Audiology. Bill MacLean is the WIND coordinator for URLEND and participates with the trainees in the weekly sessions.

Web link: http://www.urlend.org/
Emergency Planning for People Unable to Self Evacuate (UTSE) and others with functional and/or access needs
The Wyoming Institute for Disabilities leads statewide efforts to enhance emergency planning for people with disabilities. Executive directors of Wyoming Protection and Advocacy, the Governor's Council on Developmental Disabilities, the Wyoming Department of Health's Developmental Disabilities Division, and WIND concurred with the need for a central statewide effort to assist emergency planners with efforts to ensure specific focus on people Unable To Self Evacuate and on other people with access and/or functional needs who would need help in an emergency.
WIND partners primarily with the Wyoming Office of Homeland Security (WOHS) and the Wyoming Department of Health (WDH), Public Health and Hospital Preparedness programs.
As part of the UTSE effort, WIND formed an advisory group (CAG) of core people to help guide statewide planning efforts. CAG members include a number of representatives from emergency management functions. CAG core membership is and will remain above 50% comprised of people UTSE or who have other functional and/or access needs. The CAG also includes a county emergency management agency/homeland security coordinator and representatives from law enforcement, fire services and emergency medical services as well as from WOHS and WDH.
Smart Home on the Range
Sandy Root-Elledge, Wendy Alameda, John Paul Harris, and Darcy Regan
Smart home technology can include environmental adaptations that allow remote control of home appliance, electronic communication, health and safety monitoring and automated task cueing, any of which may prove useful for people with disabilities and who are aging.  In July 2012, the Wyoming Assistive Technology Resources (WATR) program launched efforts to explore the possibility of developing a demonstration apartment in Wyoming.  Initially those interested toured a similar project in Boulder, Colorado (Imagine! Smart Home). Subsequent meetings have focused on identifying potential building sites, builders, funders, and technology for a demo apartment. Exploration of this project will continue into 2014.
Wyoming Act Early will educate parents, health care professionals, and child care providers about developmental milestones and the early identification of autism spectrum disorders and other developmental disabilities. Through enhanced awareness the existing state system could provide more timely assessments, diagnosis, and referral for early intervention.
Sandy Root-Elledge, Darcy Regan, Wendy Alameda, and Barb Locke
Wyoming Assistive Technology Resources (WATR) is Wyoming's Assistive Technology Act program, established through the AT Act of 1998, as amended in 2004, to increase awareness and access to assistive technology. WATR provides assistive technology training and technical assistance, public awareness, device loans and device demonstrations in the domains of employment, community living, and education for all ages throughout the state.
Sandy Root-Elledge, John Paul Harris, and Sandy Hubert
WIND received funding to continue this project for a second year to provide additional training to the 2012 cohort members and add 2013 cohort members. The PLC provides a week of intensive training on the UW campus in assistive technology to selected educators from around the state. Members continue their community work together by serving as the conduits of best practices assistive technology information to the administrators, colleagues, and parents in their districts.
Sandy Root-Elledge and Sara DiRienzo
WY F2F HIC is a statewide, family-led initiative that provides health information to families of children and youth with special health care needs through a family-faculty partnership. WIND collaborates with UPLIFT-Wyoming Federation of families and faculty members at the University of Wyoming, Wyoming Maternal Child Health and on this project.
Sandy Root-Elledge and Wendy Alameda
iCanConnect is the National Deaf-Blind Equipment Distribution Program (NDBEDP) for reimbursements for equipment, assessments, consumer training, and expenses. iCanConnect Wyoming will offer information, assessments, and equipment to over 200 adults and children who have been identified as having deaf-blindness in the state.
WIND Resource and Information Center
The WIND Resource and Information Center contains books, multimedia materials, and online sources that deal with disabilities such as autism, Alzheimer's disease, depression, and neurological disorders plus the education, employment, health, and rights of people with disabilities. This unique collection is open on a case by case basis.
Wyoming Accessibility Center (WAC)
Sandy Root-Elledge

The Wyoming Accessibility Center (WAC) provides fee-for-services training, technical assistance and assessments to improve the access of individuals with disabilities to education, training and employment. Services include assistive technology assessments, conversion of conference materials to Braille formats, conversions of books and materials to audio and tactile graphics, close captioning, and Website and course accessibility review.
Sandy Root-Elledge and Wendy Alameda

Wyoming AgrAbility is a program of the University of Wyoming, Cooperative Extension Unit, funded through the United States Department of Agriculture. WIND is subcontracted to provide outreach, disability information, coordination of services and on-site assessments. The program is focused on promoting independence for members of the agricultural community who have disabilities resulting from injury, illness, aging, or other causes.
John Paul Harris
The Wyoming Clearinghouse for Accessible Media and Materials is supported by funds from the Wyoming Department of Education to assist school districts in obtaining and implementing accessible textbooks and core instructional materials. These materials are available in multiple formats to students who meet eligibility requirements and have a documented print impairment.
Wyoming EPSCoR Disability Awareness
WIND is currently collaborating with Wyoming's Experimental Program to Stimulate Competitive Research (EPSCoR) on their initiative to recruit more students with disabilities into the science, technology, engineering and math (STEM) fields; to increase awareness of disability issues among students, faculty, and staff; and to increase accessibility and access awareness among their affiliated colleagues. We are excited to work on this initiative because a major component of the EPSCoR grant is directed toward recruitment of women and people with disabilities into the STEM fields. This year, we have worked with them to invite a newly minted PhD in Biology, Dawn Allenbach, to speak about her experiences navigating a PhD as a woman with disabilities, and also to present her scientific research to colleagues. She will be speaking on April 25 and April 26. Also, Michelle Jarman will be presenting at two EPSCoR related functions over the summer to discuss disability studies, disability services on campus and access more broadly. We will continue to partner with EPSCoR over the five year span of this grant, and we look forward to working with them to enhance disability advocacy at UW.
William MacLean

The Governor's Planning Council on Developmental Disabilities, Protection & Advocacy System, Inc., and the Wyoming Institute for Disabilities (WIND) are sister organizations authorized under the Developmental Disabilities Assistance and Bill of Rights Act. The Administration on Developmental Disabilities/Administration on Children and Families provides funding to each of these organizations. In Wyoming, the three groups work together to provide a comprehensive array of supports to people with developmental disabilities, family members, providers and state agencies. Each agency brings a unique perspective on services and supports for people with disabilities and is required under federal law to address specific areas of concern. WILDD is an entity that fosters communication and information exchange among the three organizations.
Laurie Westlake and Rebecca Allen

The Wyoming Lions Early Childhood Vision Project is committed to ensuring that all children in Wyoming receive the highest quality eye care. Local Lions Club volunteers and professionals from Developmental Centers conduct vision screening activities with children ages 6 months to 72 months of age. These screening activities may include external observation, stereopsis, or acuity, using specialized equipment such as the Plus OptiX Inc. Assessment Systems or the PediaVision.

Screening results are mailed to parents and a summary of the results are returned to the screening site and screening agency. Children who fail the screening are referred to eye care professionals throughout Wyoming and neighboring states. Exam results are sent to the Wyoming Institute for Disabilities to ensure that follow-up is completed and help inform data-driven decision making regarding appropriate vision screening.
Wyoming Technology Access Program
Sandy Root-Elledge

WYTAP is a partnership among WIND Assistive Technology Resources (WATR), Wyoming Independent Living Rehabilitation, Inc. (WILR), and First Interstate Bank of Laramie to provide a financial loan program for individuals to purchase assistive technology devices and services. WYTAP buys down the interest rate to lower than the current prime rate. Individuals who may not otherwise qualify for a loan are often eligible to participate in WYTAP. Loans can range from $500 to $25,000 with extended payback periods of up to 70 months.
Wyoming Think College  is a strategic planning initiative to develop a postsecondary educational opportunity within the state for students with intellectual disabilities. Currently, committees are working to write the report to Think College, gather necessary information, and plan for an eventual postsecondary program in Wyoming.  The communicate about, developing programming for, and involving Wyoming legislators in WY Think College. The program goal is for "People with intellectual disabilities in Wyoming to have the choice to attend college with supports that are individualized" by August 2012.