Applications for Current Students
Are you a UW student interested in joining the Honors College? Honors encourages strong and ambitious UW students to apply. The Honors College provides a rich opportunity to enhance your major studies, give you independent research experience, and foster relationships throughout your time at UW. Just follow the instructions below to apply and become a part of the Honors College community.  
Requirements
For acceptance in the Honors College as a current UW student, please ensure you meet the following requirements: 
Completion of 30+ post-high school credit hours 

Completion of a COM1 and COM2 course 
For students joining the College with the above record, the Honors College curriculum is: one non-western Honors seminar, two upper-division Honors seminars, and the senior capstone project. If you have questions about requirements to graduate with Honors, please email honorsadvising@uwyo.edu.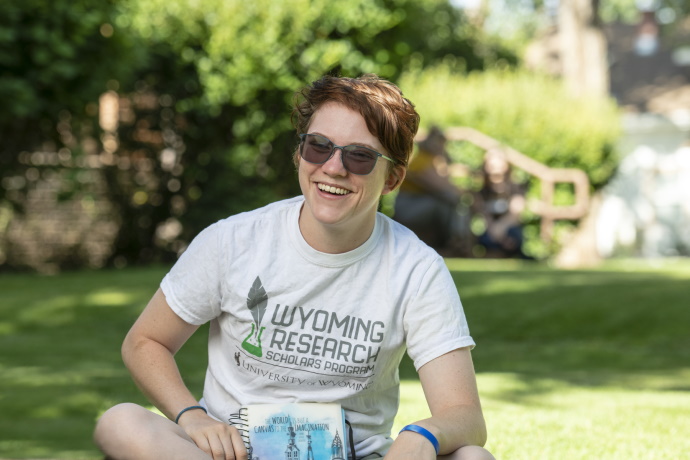 Application
For acceptance in the Honors College please complete the following two bulleted components. Applications with missing materials may not be considered. This is a rolling admissions process. 
Complete the Change of Major form designating the Honors College Minor by "adding a Minor." 

Please write an essay of 250-500 words on one of the following three prompts. You should feel free to take either a critical or a creative approach. Whatever your approach, your essay should communicate a little bit about who you are, what your passions are, and what kind of a difference you hope to make in the world.  At the end of your essay, please briefly answer the following question: "Based on your preliminary review of the UW Honors College curriculum, requirements and opportunities, what aspects of the program appeal to you most?" Keep in mind that your application essay is the first opportunity for the Honors College to get to know you and begin to give you the specialized attention that is a major goal of our program. 
1. Describe a problem you've solved or would like to solve. It can be a personal challenge or setback, an intellectual challenge, a research query, an ethical dilemma, or a community challenge. Explain the problem's significance, what steps you took or could take to solve it, and what challenges you faced or could face along the way. Please also discuss the benefits of the solution to you and/or the broader community. 
2. Choose an activity, an experience, or a cultural object that has shaped your understanding of your place in the world in an important way. How did it shape you? How did it change you and your thinking? How does it help explain who you are today? 
3. Choose one of the following quotations about education and impact and explain how it fits with your thinking. You should refer to the quotation but also feel free to go beyond it: 
"It is what we think we know already that often prevents us from learning" (Claude Bernard, scientist) 
"Education is for improving the lives of others and for leaving your community and world better than you found it." (Marian Wright Edelman, children's rights activist) 
"Education is not the filling of a pail, but the lighting of a fire" (attribution thought to be Plutarch, historian) 
"How wonderful it is that nobody need wait a single moment before starting to improve the world" (Anne Frank, diarist and Holocaust victim) 
Email these two documents (in either pdf or .docx form) to honors@uwyo.edu. You will be notified of your Admissions status once your application has been reviewed.
---