Honors College Advising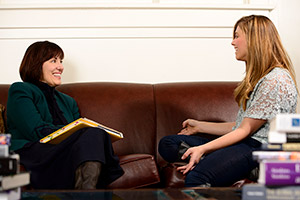 The Honors College offers supplemental advising that helps students develop a cohesive and comprehensive plan for completing their degree and engaging in meaningful experiences and research at UW.
All students at UW are assigned an advisor in their major college/department.  This primary advisor helps students plan their courses each semester and helps them monitor progress towards their degree.  Students are required to meet with their primary advisor at least once per semester in order to review their planned schedule for the next semester and to receive their Personal Electronic Registration Code (PERC).  Students cannot register for Fall or Spring classes without meeting with their primary advisor. 
Honors Advising supports the work that students do with their primary advisors.  We instruct students on Honors curriculum requirements and help students select their Honors courses.  We can assist students in creating four-year (or five- or six-year) graduation plans.  We also coordinate transfer credit, study abroad opportunities, and substitutions within the Honors College.  Furthermore, we support the Honors Senior Thesis Coordinator in helping students develop their senior projects. Additionally, we can assist students with study skills and getting connected on campus.
Individual advising with Honors is optional.  Advising with your primary advisor is required.  This means that most Honors students will attend at least two advising sessions per semester: One session with their major/primary advisor and one optional advising session (group, walk-in, or individual) with Honors.
Year-Round Advising
Honors offers year-round advising services.  
Don't see a time that works for you? Email honorsadvising@uwyo.edu
Have Honors Capstone questions throughout the academic year? Please contact Dr. Joslyn Cassady, Honors Capstone Coordinator, to set up a meeting: jcassady@uwyo.edu.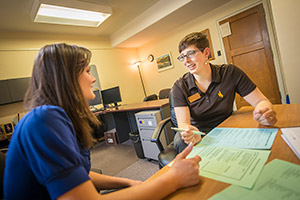 Peak Advising for Course Registration
Each semester prior to Advising Week and course registration, we offer additional advising resources to help students prepare for their appointments with their primary advisors and for course registration. These resources include increased group advising/senior thesis information sessions, individual advising, email and phone advising, and dissemination of Honors curriculum requirements, course offerings, and other information through email and other digital channels.
Honors College Advising Learning Outcomes
Students who engage in advising with the Honors College will be able to do the following:
Explain the requirements for completing the Honors curriculum
Explain the requirements for maintaining good standing with the Honors College
Create a tentative course schedule to share with their primary advisor each semester (using the WyoCourses Plan Ahead feature or other methods)
Demonstrate competency using the WyoRecords registration system
Utilize Degree Works and Four-Year Degree Plans to map and monitor progress towards their degree
Articulate their educational and experiential goals at UW
Develop a plan for completing their senior thesis project for Honors
Honors Curriculum Requirements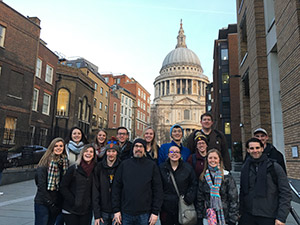 For advising information, please contact
Laura Olson and Ann Stebner Steele
Honors Advising Coordinators
Guthrie House Basement
307-766-4110 | honorsadvising@uwyo.edu