Department of Molecular Biology
College of Agriculture and Natural Resources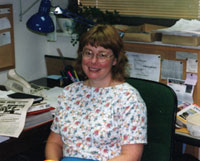 Dr. Pamela J. Langer
Department of Molecular Biology
University of Wyoming
Laramie, WY 82071
email: langer@uwyo.edu
---
Research Statement
How does a spider recycle its silk? To meet the high metabolic demands of daily silk production, at least some spiders have developed a way to reuse their silk. Certain orb web-weaving spiders recycle their web proteins despite the fact that some web fibers, namely major and minor ampullate silk, are highly resistant to common proteases. We have started a new project in the lab with the goal of identifying and characterizing spider proteases that are capable of degrading solid silk fibers. While several proteases are capable of degrading soluble silk fibroin proteins, certain spiders produce a digestive protease that can degrade solid major ampullate silk fibers in vitro. Because this silk-degrading peptidase has several isoforms, present in both orb-weaving and non-orb-weaving spiders, we have the opportunity to study the structural properties of the enzyme that permit use of solid silk fibers as a substrate.
---
Selected Publications
Resnik D B, Steinkraus H B and Langer P. J. Human Germline Gene Therapy: Scientific, Moral and Political Issues. RG Landes Bioscience, Austin , TX , 189 pages, 1999.

Bock, J. H. and Langer, P. J. Sequence and genomic organization of the hsp70 genes of Leishmania. amazonensis. Molec. Biochem. Parasitol. 62, 187-197 (1993).

Steinkraus, H. B., Greer, J., Stephenson, D.C. and Langer, P. J. Sequence heterogeneity and polymorphic gene arrangements of the Leishmania. guyanensis gp63 genes. Molec. Biochem. Parasitol. 62, 173-185 (1993).

Steinkraus, H. B. and Langer, P. J. The protein sequence predicted from a Leishmania guyanensis GP63 major surface glycoprotein gene is divergent as compared with other Leishmania species. Mol. Biochem. Parasitol. 52,141-144 (1992).
---