Department of Psychology
College of Arts & Sciences
Conceptual and Social-Cognitive Development
Principal Investigator: Dr. Karen Bartsch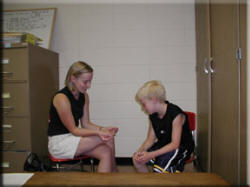 University of Wyoming
Department of Psychology, Dept. 3415
1000 E. University Ave., Laramie, WY 82071
Phone: (307) 766-2942
E-mail: bartsch@uwyo.edu
 Dr. Bartsch is actively recruiting prospective graduate students at this time.
Chrissy Wade, as a graduate student in the lab, asks a child when he learned to solve a puzzle in an investigation of young children's recognition of learning events.  Chrissy is now an Assistant Professor in the UW Department of Family and Consumer Science.
Current Research Topics
Conceptual development (theory of mind; theory-theory, recognition of learning)

Development of social cognition (application to persuasion)

Moral development (moral reasoning and environmental issues)
Recent Representative Publications
* Indicates a graduate student co-author
2011
Bartsch, K., Wade, C. E., & Estes, D. (2011). Children's attention to others' beliefs during persuasion: Improvised and selected arguments to puppets and people. Social Development, 20(2), 316-333.
2010
Bartsch, K., Wright, J. C., & Estes, D. (2010). Young children's persuasion in everyday conversation: Tactics and attunement to other's mental states. Social Development, 19(2),394-416.
2008
Wright, J. C., & Bartsch, K. (2008). Portraite of early moral sensibility in two children's everyday conversations. Merril-Palmer Quarterly, 54(1), 56-85.
2007
* Bartsch, K., Campbell, M. D., & Troseth, G. L. Why else does Jenny run? Young children's extended psychological explanations. Journal of Cognition and Development, 8(1), 33-61.

* Bartsch, K., London, K., & Campbell, M. Children's attention to beliefs in interactive
persuasion. Developmental Psychology, 43(1), 111-120.

Tang, C., Bartsch, K., & Nunez, N. Young children's reports of when learning occurred: It depends on the question. Journal of Experimental Child Psychology, 97, 149-164.
2005
* Bartsch, K., & Wright, J. C. Towards an intuitionist account of moral development.
[Commentary] Behavioral and Brain Sciences, 28, 546-547.
2003
* Bartsch, K., Horvath, K., & Estes, D. Young children's talk about learning events. Cognitive Development, 18, 177-193.
2002
Bartsch, K. The role of experience in children's developing folk epistemology:  Review and analysis from the theory-theory perspective. New Ideas in Psychology, 20, 145-161.
2000
* Bartsch, K. & London, K. Children's use of belief information in selecting persuasive arguments, Developmental Psychology, 36, 352-365.
Representative Grants
2007
Co-PI - Penningworth, S., & Bartsch, K. (2007-8).  Prospective memory ability in 2nd- and 5th-Graders, University of Wyoming, Faculty Grant-in-Aid.
2002
PI - Bartsch, K. (2002-6). Young children's use of mental state information in persuasion. National Science Foundation