Principal Investigator: Dr. Benjamin Wilkowski
University of Wyoming
Department of Psychology, Dept. 3415
1000 E. University Ave.
Laramie, WY 82071
Phone: 307-223-5239
E-mail: bwilkows@uwyo.edu
Prospective Graduate Students:

The Emotion and Cognition Laboratory is currently accepting applications for graduate students! We are especially interested in applicants whose research interests align with ours (see below). Please see the Department of Psychology's Information Page for more on how to apply!
Research Interests
Goal-Contents: What do people want? This question seems almost foundational to psychological science. However, no past taxonomy has gained widespread acceptance because of disagreements regarding the number and contents of goals. To help rectify this, we recently conducted a lexical analysis of the structure goal-relevant words in the natural English lexicon (Wilkowski, Fetterman, Lappi, Williamson, Leki, Rivera, & Meier, in press). The result is the PINT Taxonomy of Goals, which suggests that that goals can be broadly summarized in terms of four goals: Prominence, Inclusiveness, Negativity-Prevention, and Tradition goals. A major emphasis of our lab moving forward will be to further examine the structure of human goal-content, as well as the nature, origins, consequences, and social functions of these four goals.


Self-Regulation: How do people achieve their goals? One central focus of ours is to examine the processes people use to pursue their goals in everyday life. For example, we have proposed an Integrative Cybernetic Model, which examines a multitude of self-regulatory processes used to pursue goals in daily life (e.g., planning, testing, self-control; Wilkowski & Ferguson, 2016). In another paper, we examined several competing theories of why self-control sometimes fails and people give into temptation (Wilkowski, Ferguson, Williamson, & Lappi, 2018]). Most recently, we have examined the effectiveness of different self-control strategies, finding that more 'proactive' strategies are often quite successful (Williamson & Wilkowski, in press); and we are currently examining how 'good' (i.e., goal-congruent) habits help people achieve their goals in day-to-day life (Williamson & Wilkowski, in preparation).


We also have broad interests in Aggression, Emotion, and Personality (e.g., the Big 5 traits; social cognitive approaches to studying personality). In one project, for example, we are examining how different aspects of social situations (from Interdependence Theory) motivate aggressive behavior (as well as other social behaviors) (Rivera & Wilkowski, in preparation). Applicants interested in studying topics such as Aggression, Emotion, and Personality are encouraged to apply!
Lab Members:
Benjamin Wilkowski, Ph.D.
Primary Investigator

 Ben grew up outside of Columbus, Ohio. He earned his B.A. in psychology and philosophy from Ohio University in 2002, and his Ph.D. in social/personality psychology from North Dakota in 2008. He came to the University of Wyoming in 2008 and has been here ever since.
Zach Williamson
4th year graduate student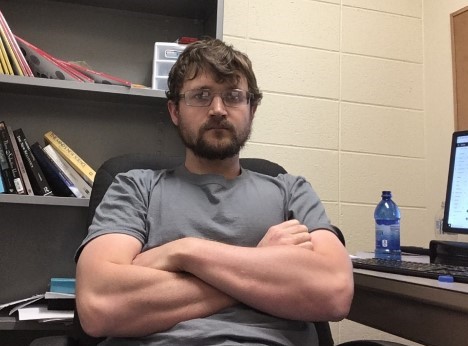 Originally from Mountain View, Wyoming, Zach obtained his BA in psychology with from the University of Wyoming in 2015. Zach joined the Emotion and Cognition lab as a graduate student in 2016. Zach is primarily interested in the influence of goal specific motivation on various self-regulatory processes and how this impacts the attainment of long-term goals.
Emilio Rivera
2nd year graduate student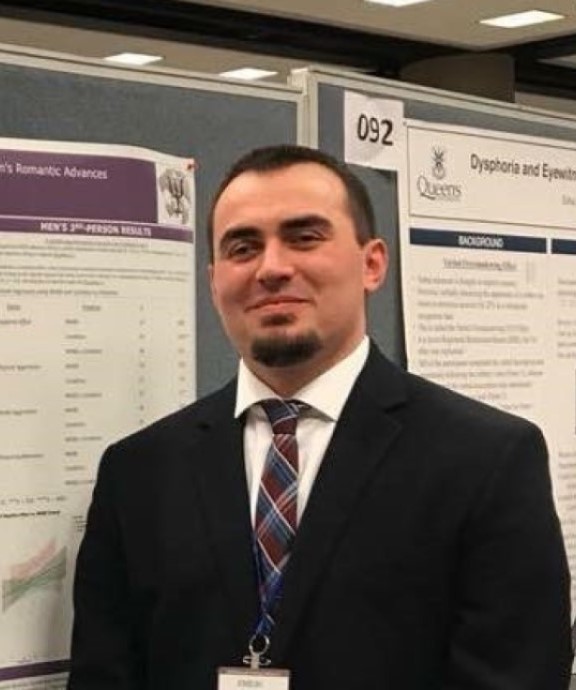 Originally from Junction City, Kansas, Emilio obtained his B.S. in psychology 
  from Kansas State University in May of 2018. Emilio joined the Emotion and
  Cognition lab as a graduate student in August of 2018. Emilio is primarily
  interested in the various ways in which individuals perceive situations within
  an interdependence theory perspective and how these perceptions impact
  overall behavior, with a focus on aggressive behavior.
Lab Alumnus:
Elizabeth Ferguson Leki, Ph.D.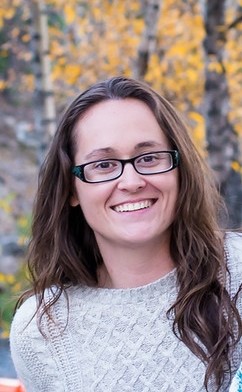 Originally from Mobile, Alabama, Elizabeth obtained her B.S. in psychology from
  Old Dominion University in Norfolk, Virginia. She joined the Emotion and
  Cognition lab as a graduate student in 2012, and earned her Ph.D. in 2017.
  While in the lab, Liz's research focused on guilt and shame; and she maintained
  an active collaboration with the Psychology and Law Lab, where she and her
  colleagues examine the role of emotion in the courtroom and the effects of
  racial prejudice on social justice. She now works at Dynatrace as a Digital
  Experience, Business Insights Analyst. There, she puts to work many of the
  advanced statistical skills she learned at UW.
Representative Publications
Wilkowski, B.M., Fetterman, A.K., Lappi, S.K.*, Williamson, L.Z.*, Leki, E.F., Rivera, E.* & Meier, B.P. (in press). Lexical derivation of the PINT taxonomy of goals: Prominence, inclusiveness, negativity-prevention, and tradition. Journal of Personality and Social Psychology. [preprint pdf]
Williamson, L.Z.*, & Wilkowski, B.M. (in press). Nipping temptation in the bud: Examining proactive self-control in daily life. Personality and Social Psychology Bulletin. [preprint pdf]
Wilkowski, B.M., Ferguson, E.L., Williamson, L.Z.*, & Lappi, S.K.* (2018). (How) does initial self-control undermine later self-control in daily life? Personality and Social Psychology Bulletin, 44, 1315-1329. [preprint pdf]
Denson, T., Wilkowski, B.M., DeWall, C.N., Friese, M., Hoffman, W., Ferguson, E.L.*, Chester, D.S., Capper, M.M., Yu, L., Garradd, A., & Kasumovic, M.M. (2017). Boosting self-control capacity supports the aggressive and non-aggressive pursuit of distal goals. Journal of Experimental Social Psychology, 69, 71-78. [preprint pdf]
 Wilkowski, B.M., & Ferguson, E.L.* (2016). The steps that can take us miles: Examining the short-term dynamics of long-term daily goal pursuit. Journal of Experimental Psychology: General, 145, 516-529. [preprint pdf]
Wilkowski, B.M., Crowe, S.E.*, & Ferguson, E.L.* (2015). Learning to keep your cool: Reducing aggression through the experimental modification of cognitive control. Cognition and Emotion, 13, 774-781. [preprint pdf]
 Wilkowski, B.M., & Ferguson, E.L.* (2014). Just loving these people: Extraverts implicitly associate people with reward. Journal of Research in Personality, 54, 93-102. [preprint pdf]
 Meier, B.P., & Wilkowski, B.M. (2013). Reducing the tendency to aggress: Insights from social and personality psychology. Social and Personality Psychology Compass, 7, 343-354. [preprint pdf]
 Wilkowski, B.M. & Robinson, M.D. (2010). Associative and spontaneous appraisal processes independently contribute to anger-elicitation in daily life. Emotion, 10, 181-189. [preprint pdf]
 Wilkowski, B.M., Robinson, M.D., & Troop-Gordon, W. (2010). How does cognitive control reduce anger and aggression?: The role of conflict monitoring and forgiveness processes. Journal of Personality and Social Psychology, 98, 830-840. [preprint pdf]
 Wilkowski, B.M. & Robinson, M.D. (2008). The cognitive basis of trait anger and reactive aggression: An integrative analysis. Personality and Social Psychology Review, 12, 3-28. [preprint pdf]
*Denotes graduate student author