WY CAPS Program
University of Wyoming
Dept. Ecosystem Science & Management: 3354
1000 East University Ave.
Laramie, WY 82071
Phone: (307)766-5278
Email:
caps@uwyo.edu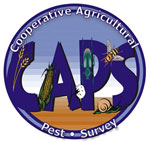 Education and Outreach
Pest Education Activities
These activities are directed toward 1st - 3rd grade students, but could be easily expanded to challenge older students.
Our goal is to provide education about invasive weeds and pests, to stress the importance of reporting those pests, and to establish a relationship with our local schools. We will continue to add to our activities and would appreciate any input you may have.
Wyoming Agriculture in the Classroom
Teton County - Weed and Pest District