WY CAPS Program
University of Wyoming
Dept. Ecosystem Science & Management: 3354
1000 East University Ave.
Laramie, WY 82071
Phone: (307)766-5278
Email:
caps@uwyo.edu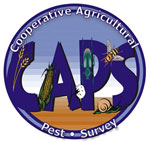 Report-a-Pest
You can help! Become a CAPS first responder!
Early detection is the Wyoming Cooperative Agricultural Pest Survey's primary goal to prevent outbreaks and establishment of exotic pests in Wyoming. If you see a pest featured on the WY CAPS website - please let us know.
Send photo images and inquiries to: caps@uwyo.edu
Feel free to call us with questions: (307) 766-5278
-or- 
Contact your local Weed & Pest Supervisor