WY CAPS Program
University of Wyoming
Dept. Ecosystem Science & Management: 3354
1000 East University Ave.
Laramie, WY 82071
Phone: (307)766-5278
Email:
caps@uwyo.edu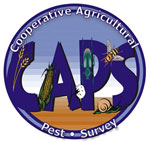 Featured Pests
Brown Marmorated Stink Bug Halyomorpha halys Stål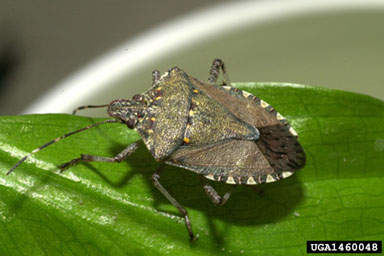 Photo by David R. Lance, USDA APHIS PPQ, Bugwood.org
With spring in the air, and warmer weather approaching, be on the lookout for the Brown Marmorated Stink Bug.
History of the B.M.S.B. and past interceptions
The Brown Marmorated Stink Bug is an insect of Asian origin that was accidentally introduced to North America and has since been recorded in 34 states. The stink bug was first collected in the United States in 1998 in Pennsylvania.  In 2011, a single bug was detected in a Fort Collins, Colorado home. This insect is able to transport long distances in cargo via hitchhiking.
Why the B.M.S.B. is considered a pest?
The B.M.S.B is primarily a nuisance pest that invades buildings looking for a place to overwinter.  In recent years, it became established as a season-long orchard pest causing 'cat-facing', dimpling, and necrosis, rendering fruit as unmarketable. There is increasing concern in the pest's potential to damage crops – especially considering its wide host range and potential to transmit pathogens.  In addition – stink bugs emit a foul and offensive odor when disturbed.
When should I look for the B.M.S.B?
Adults emerge from overwintering sites in late April – mid May to reproduce.  Adults may be seen again in the fall when they invade buildings to overwintering.
What does the B.M.S.B. look like?
Adults are brown in color, with dark red eyes, having a shield-like appearance.  Light and dark bands are found on the antennae and outer edge of the membranous hind wings. **This bug can be confused with some native species such as the rough stink bug and the western conifer seed bug -both commonly seek refuge in buildings to overwinter.**
Reporting this Pest
If you find this insect in Wyoming please report it to the Wyoming Cooperative Agricultural Pest Survey Program (CAPS) at (307) 766-5278 or via email to: caps@uwyo.edu so that we may track the movement and spread of the Brown Marmorated Stink Bug.
Please send suspect samples to: Scott Schell: Insect ID, Department of Ecosystem Science and Management 3354, University of Wyoming, 1000 East University Avenue, Laramie, WY 82071.  Images may be sent to: SSchell@uwyo.edu