Vacancy: Economic Geology, Dept. of Geology & Geophysics
December 5, 2016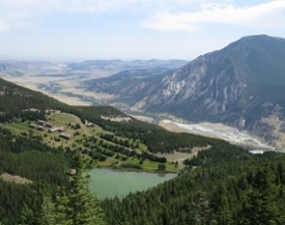 The old and the new: Past and current mining at Stillwater
Dec 5th 2016. The Department Geology and Geophysics at the University of Wyoming invites applications for a tenure-track faculty position in Economic Geology at the Assistant Professor level. We define Economic Geology broadly, seeking applications from individuals whose research and teaching interests are focused on Earth material resources across a wide range of applications including, but not restricted to, emerging technologies and energy transitions. We are a research-active department seeking a colleague able to teach required courses in our degree programs as well as in their area of specialization. For information about our department and analytical facilities, please see the links given below and the rest of this website.
The successful candidate must hold an earned doctoral degree in Geoscience or a closely related discipline by the position start date, have the demonstrated potential to develop a nationally competitive, externally funded research program, and have demonstrated teaching ability, with preference for individuals able to teach Economic Geology and Igneous & Metamorphic Petrology.
Applications must include: 1) a letter of application, 2) a curriculum vitae including a list of publications, 3) statements of research interests & teaching philosophy, and 4) contact information for at least three references. Do not include supplemental information such as off-prints of papers, reference letters, or transcripts.
Review of applications will begin Jan 20, 2017 and will continue until the position is filled. The preferred start date for the position is August 2017. For more information, contact: WYO_EG@uwyo.edu.  To Apply, visit this page.
Meet with us at AGU in San Francisco Dec. 10 - Dec. 12!
Contact Susan Swapp (chair of the search committee) for details.
Some Information about Geology and Geophysics and UW:
The department comprises 23 faculty serving approximately 180 undergraduate students and 65 graduate students. Geology and Geophysics faculty have access to exceptional laboratory, field, and computational resources including:
Materials Characterization Laboratory (FESEM, conventional SEM, 200 kV TEM, EPMA, 4kW WDS XRF, powder XRD); 
Geochemistry Analytical Laboratory (AA, ICP-OES, IC, and a range of other techniques for aqueous analysis); 
Wyoming High Precision Isotope Laboratory (with a state-of-the-art Thermo Fisher Scientific NEPTUNE Plus MC-ICPMS); 
Wyoming Center for Environmental Hydrology and Geophysics (which hosts a large facility of near-surface geophysical equipment, including seismic, electrical, potential field and electromagnetic instrumentation);
Radiogenic Isotope Laboratory (Thermal Ionization Mass Spectrometry:VG Sector 54- Rb-Sr, Sm-Nd and U-Pb isotopic analyses);
University of Wyoming stable isotope laboratory (carbon, hydrogen, oxygen & nitrogen isotopes);
and both on-campus cluster computing and in-state supercomputer.
see other department facilities here