Homecoming 2017: Nursing Activities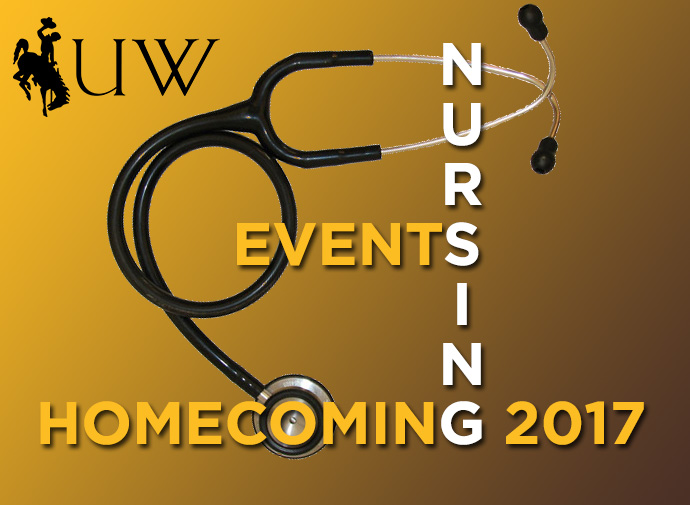 University of Wyoming Homecoming 2017:  Several activities are scheduled in the few days prior to the 2017 Homecoming Football Game. Come join us! Scroll down for a listing...
Johnna French, 2017 Distinguished Alumna
Our Distinguished Alumna for 2017, Johnna French, BSN, CLC ('11) will be involved in some of the following events. Read more about French by clicking on the title (her name). French was named Distinguished Alumna based on her work in and passion for Public Health Nursing and her outstanding involvement and contributions to the community.
Nursing Open House
Friday morning, October 27, the school will host an Open House from 9-11 a.m. Come to the third floor of the Health Sciences Center, enjoy conversation, refreshments and Clinical Simulation Center Tours. Our UW Alumni Association Nursing Chapter will have a table there, and we hope to see our 2017 Distinguished Alumni Johnna French there as well.
Interprofessional Panel Discussion with Nursing Distinguished Alumna
On Friday the 27th from 1:30 to 3 p.m., the 4th Annual College of Health Sciences Distinguished Alumni Interprofessional Panel Discussion will be held in the Enzi STEM Atrium (a new building northeast of the Health Sciences Center facing Lewis Street. Our 2017 Distinguished Alumna Johnna French will be on that panel! Other distinguished alumni from Communication Disorders, Pharmacy, Social Work and WWAMI will also share career insights and discuss leadership and interprofessional collaboration. Sponsored by the UW CHS Interprofessional Education Committee.
UW Alumni Association NURSING CHAPTER Meet & Greet!
Friday, October 27, 4-6 p.m.: Our first ever UW Alumni Association Nursing Chapter Meet & Greet will be located in our Health Sciences Center, 1st Floor Atrium. Refreshments will be served, conversation will be rampant, and a special award will be made to a very special nursing alumni. Come join us and enjoy meeting new nursing friends!
College of Health Sciences Tailgate
Saturday, October 28, 3:30 p.m.: Come enjoy meeting not only other nursing graduates, but graduates from all the UW Health Sciences disciplines across the years. The tailgate will be located in the Corbett Building. Grab a free bite to eat!