Jason Terwilliger
Preceptor of the Year 2020-2021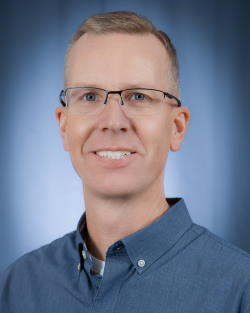 The University of Wyoming School of Pharmacy awarded two Preceptors of the Year for the 2020-21 academic year. Pharmacist, Jason Terwilliger, who is a preceptor at Cheyenne Regional Medical Center (CRMC) in Cheyenne, WY was one of the award recipients. Jason sat for an interview about his role as a preceptor so that the School of Pharmacy could share with other preceptors his strategies to educate and motivate student learners.
 Jason started his career in the healthcare profession as a paramedic in 1995. It was during his time as a paramedic that Jason realized he liked the medication part of the job and thus his interest in pharmacy began. Jason then became a pharmacy technician as he completed the pre-requisites for pharmacy school before entering pharmacy school in 2005. He then worked as a pharmacy intern while in school up until 2009 when he graduated from the University of Wyoming School of Pharmacy. After completing pharmacy school Jason went to work at CRMC as a clinical pharmacist. He helped start both the ICU and ER pharmacist positions and worked in both areas until becoming a pharmacy specialist for CRMC's critical care service.
 Jason became a preceptor as soon as he started at CRMC. As a recent graduate, he saw some opportunities to revamp the experiential education program at CRMC to make the learning process better for students. Thus, his service as an educator to pharmacy students began. The thing he likes best about being a preceptor is sharing his knowledge with students. Jason gives high praise and much credit to his fellow preceptors at CRMC. They all work together to offer unique learning experiences for students. They meet regularly to share ideas, discuss what works best for student learning, and they coordinate learning activities such as topic discussions and student experiences in the various areas within the hospital. Jason's advice to other preceptors is to listen to students and find out what they want to learn and what they don't know but need to learn. Then be flexible and adjust learning experiences to try to meet the students' interests and learning needs. In the hospital setting, he has found students like experiencing different areas of the hospital. It's through these experiences that students learn and grow.
 A strength of Jason's is his flexibility. He realizes that every student is different with different interests, experiences, and motivations and thus each rotation needs to be tailored to each student. Jason reviews each student's Personal Learning Plan that is sent to him two weeks prior to the start of each rotation. This helps him to understand what experiences to focus on during the rotation. For example, if a student has worked as a hospital pharmacy technician, then he will have the student spend less time with the pharmacy technicians. He also tries to keep the learning environment informal, which relaxes students, and he tries to keep a level head which helps reduce stress for students. He has found that communicating with the student throughout the rotation and adjusting learning activities as needed improves the learning experience for students. Jason also tries to seek out opportunities with other healthcare disciplines so students can learn from them. This can sometimes be challenging as other disciplines may find it hard to teach about the medications they use, but to Jason it's worth seeking out these opportunities if it helps students learn.
Because CRMC has a PGY1 pharmacy residency program, Jason is required to stay current on his preceptor development as a requirement of the program. He also takes advantage of ASHP's preceptor development program, reads articles on the topic, and completes 120 hours of continuing education every seven years. In addition, Jason and his fellow preceptors at CRMC serve as educators and mentors for residents who start as preceptors during the first month in the residency program. Jason and his fellow preceptors also take students from schools of pharmacy in Colorado, Kansas, Nebraska, as well as Wyoming, which helps him to maintain and develop new skills as a pharmacy preceptor and contributes to his success as an experiential educator.
The University of Wyoming School of Pharmacy is fortunate to have Jason and the great team of pharmacist preceptors at CRMC educating our students. Students really appreciate that Jason includes them in his job responsibilities and educates them on what he is doing and why.  They also like that he quizzes them and provides feedback that keeps them engaged and learning. Students recognize that educating them is a priority for him, and thus have nominated him for Preceptors of the Year. Thank you, Jason, for your dedication and commitment to University of Wyoming School of Pharmacy students.
Return to Preceptor-Resources Page