Karen Burk
Preceptor of the Year 2020-2021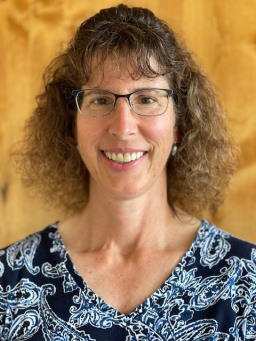 The University of Wyoming (UW) School of Pharmacy awarded two Preceptors of the Year for the 2020-21 academic year. Pharmacist, Karen Burk, who precepts students at Powell Valley Healthcare in Powell, WY was one of the award recipients. Karen is a two time Preceptor of the Year recipient who took the time to share her insights as to what makes her such an outstanding and well respected pharmacist, mentor and educator.
Karen graduated from the University of Wisconsin Madison in 1992 with a Bachelor of Science degree in pharmacy. She started her 29 year career working at a 100 bed hospital in Kenosha, WI where she worked for about nine months. She then joined Columbia Hospital in Milwaukee, WI which was a larger 300 bed hospital. There she worked primarily in the ICU/CCU setting. During that time Karen also worked for five summers at Lake Hospital in the beautiful setting of Yellowstone National Park. During her storied career, Karen also worked on a PRN basis for a company that provided medications to multiple long-term care centers.  After moving to Wyoming Karen worked in the retail setting including at Osco, Shopko, and Walmart for several years before starting her influential career at Powell Valley Healthcare. She started working at Powell Valley Healthcare in 2002, and Karen has been with the hospital since that time.
It was just two short years after starting at Powell Valley Healthcare that Karen became a preceptor. The thing she loves the most about being a preceptor is watching the students become more confident in their knowledge and their interactions with other healthcare professionals, as well as with the patients and family members. Karen says most students have not had much interaction with providers and are intimidated to make that first phone call or offer a suggestion. However, by the end of the four week rotation, they are able to attend daily rounds with the hospitalists and nurses on their own. They are also able to offer great intervention suggestions that are well received by the providers, perform accurate medication reconciliations, and willingly answer the phone and appropriately triage questions. Karen has also observed over the years that the majority of students she has worked with have not had the opportunity to compound IVs. By the time they conclude their time with Karen at Powell Valley Healthcare, however, they become very comfortable with that process. Karen finds that it's so much fun to see students own the above processes, and she hopes they leave her rotation feeling more empowered to be the best pharmacist they can be.
Advice Karen can pass on to other preceptors after her 16 years of being a preceptor is that preceptors shouldn't be afraid to let the students try new tasks. Over the years she has heard from students that they weren't allowed to do anything on a rotation but watch the pharmacist or technician. This comment is most commonly heard from the P2 students. Karen has her P2 students do everything the P4 students do, just with more supervision. This gives the students a true sense of what a hospital pharmacist does and makes them feel they are part of the team and learning new skills.
When reflecting on her strengths as a preceptor, Karen says she tries to help the student be the best pharmacist they can be. She likes to tailor each rotation to the student's interests and really wants them to think and act like a pharmacist while on rotation with her. Karen and one of her co-workers decided early on there wasn't a lot of opportunity to learn "how to be a pharmacist" in school, rather it was more academic training. They wanted to give students a safe place to help build their confidence while interacting with other members of the healthcare team, patients and caregivers, as well as teach them the everyday role of the pharmacist. She tries to have them integrate throughout the whole hospital so they can see how pharmacy/medications are used in the various departments.
When asked how she connects with students, Karen says she gives each of her students the strengths-finder book and have them take the quiz in their first week on rotation. That helps her learn more about the student and what their strengths are. For example, if they have "Achiever" as a strength, she knows she better find extra tasks for them or they will be miserable.  If they have "Analytical" as a strength, she knows they are going to have a harder time making a quick decision, as they will want to keep researching and researching the question. With this information, she knows she needs to help push them along to get to their final answer so they don't spend multiple hours on the problem. This is an especially important skill for analytical students to learn as they do not always have that amount of time to determine the solution as a pharmacist. Another important tool Karen uses to help better connect with her students is reviewing student evaluations. She says that over the years a common comment in her evaluations has been that she doesn't quiz the student enough. With that information she is working on doing that more often in order to help students learn and expand their knowledge. 
For those seeking ways to start or continue their preceptor development, Karen shared what she does for preceptor development. She attends the Wyoming Pharmacy Association's (WPhA)  annual meetings where there is often CE sessions for preceptors. She also is going to take more advantage of the free CE courses available to University of Wyoming School of Pharmacy preceptors through eValue. She also obtains CE for preceptors through the American Society of Health-System Pharmacists (ASHP).
The University of Wyoming School of Pharmacy is so grateful for Karen's dedication to our students and their educational endeavors. The time and effort she puts in to developing herself as a preceptor obviously is well worth it, as she consistently is nominated as a Preceptor of the Year. Congratulations, Karen, on receiving the School of Pharmacy's Preceptor of the Year award for the second time! It's well deserved.
Return to Preceptor-Resources Page