Clean Energy Careers
February 7, 2019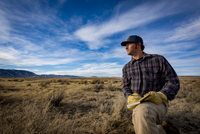 Environmental scientists play a key role in wind farm development.
Environmental Scientist
By Pam Henderson, Academic Advising Manager
Today in our continuing clean energy career series, we focus on the role of an environmental scientist.

Environmental scientists play a key role in the development of a wind farm. While engineers focus on turbine and blade placement, the environmental scientist works with the wind farm developer to ensure they are in compliance with environmental regulations and policies. These include reviewing physical, wildlife and cultural impacts.

Before a wind farm is constructed, the environmental scientists conducts environmental impact studies and recommends strategies to be sure the site is appropriate for a wind farm.

Employers prefer a bachelors degree with internship and/or practical experience.

Skills and characteristics for a successful environmental scientist include:

·        Enjoy science courses

·        Like being outdoors

·        Consider the importance of the environment

·        Work independently

·        Enjoy investigation and problem solving

 
Are you interested in clean energy and the environment? Explore the Energy Land and Water concentration in the Energy Resource Management and Development program at the University of Wyoming.

Connect with us and request more information.