Flaming Gorge Dam and Reservoir
February 1, 2019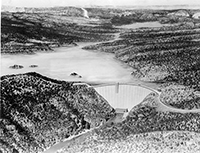 Flaming Gorge dam and reservoir artist's conception
Wyoming Energy History
Built as part of the Bureau of Reclamation's Colorado River Storage Project, the Flaming Gorge Dam was completed in 1964 on the Green River, which flows south into Utah and later joins the Colorado River. While the dam itself is located in Utah, most of the reservoir is in Wyoming and supplies both hydropower and tourism to Green River, Wyoming. In wet seasons, the dam acts as a storage area for water that will be released during dryer parts of the year as well as equalizing the river flows year round.

Part of the motivation behind the construction of Flaming Gorge was the Colorado River Basin Compact in 1922. The compact was created to endure that the states in the upper part of the basin would receive their fair share of water by building dams to store water and regulate flow. This led to the Colorado River Storage Act of 1956 which helped fun this and other projects. The Flaming Gorge Dam helped promote energy development in Wyoming as well as help bring people to Wyoming.

This article is provided through our partnership with the Wyoming State Historical Society.