Brooke Weiss: Giving to Ghana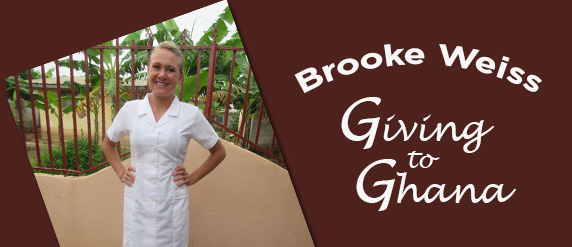 Brooke Weiss, 2014 senior nursing student, traveled to Ghana this past summer to work in a hospital as a nurse for two months. While there, she blogged about her life-changing experiences as she dealt with a foreign culture (find link below). Weiss returned from Ghana with a burden heavy on her heart to continue assisting the hospital and the individuals she left behind. Please read below about Weiss' fundraising project.
----------
"This past summer I was blessed with the opportunity to spend two months participating in an internship at Our Lady of Grace Hospital in Asikuma, Ghana. During my time, I spent one month in the maternity ward and one month in the laboratory. While this hospital is one of the best in Ghana, it is below many standards that we are accustomed to here in America. The purpose of my fundraiser is to raise money to provide vital medical supplies for Our Lady of Grace Hospital. Needs range from retractable needles to prevent needle sticks, to laminar airflow for protection when working with Tuberculosis. Donations of all sizes are welcome--every dollar will help! Through the following link you can view pictures, see donation updates, and also make a personal donation [broken link removed 2018].
"If you are interested in hearing stories or wish to inquire about my fundraiser, please contact me at: bweiss1@uwyo.edu. Thank you in advanced for your support!"
Sincerely,
Brooke A. Weiss
----------