New DNP Faculty J'Laine Proctor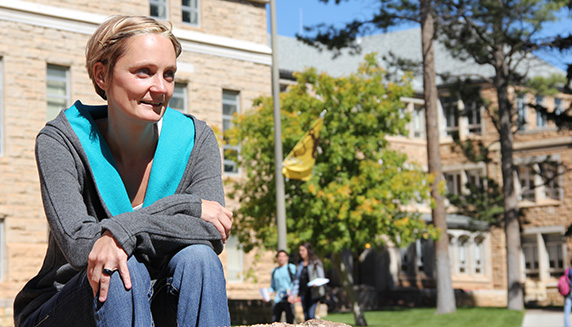 Proctor to teach in the UW DNP program's new
Psychiatric Mental Health Nurse Practitioner track
The University of Wyoming Fay W. Whitney School of Nursing's DNP program brings J'Laine Proctor on board to teach in the new Family Psychiatric Mental Health Nurse Practitioner (FPMHNP) option this fall. Proctor earned her Bachelor of Science in Nursing (BSN) in 2000 and her Family Nurse Practitioner Master of Science degree in 2003. She added on a Post-Master's Psychiatric Mental Health Nurse Practitioner certificate in 2008, and reached the height of the clinical nurse practitioner profession by completing her Doctor of Nursing Practice (DNP) in 2014.
Proctor will be teaching one class this semester to the first-year DNP students, NURS 5805, Evidence Based Practice I. She plans to teach Evidence Based Practice II in the spring, and will also be involved in clinical placements for the FPMHNP students.
Proctor shares her personal statement of "Philosophy of Teaching" below:
I am a mother, a wife, a nurse, a volunteer, a derby dame, a lifetime student, a friend, a daughter, a breast cancer survivor, a mentor/teacher, and a yogi. Each of these roles have shaped and defined who I am as a person and how I interact with others, including students.  
It is my opinion that nursing is a discipline of caring and knowledge that is experienced through formal education, life experience, clinical experience, and intuition. The sum of these parts have continued to evolve over time, making me redefine my nursing philosophy multiple times over my 14-year nursing career. Currently, I hold a holistic nursing philosophy that focuses not only on treating and caring for the physical body, but for the mind and spirit as well. This holistic philosophy guides how I approach my clients in clinical practice, as well as how I believe nursing students should be mentored and guided. My rich and diverse clinical experience as both a FNP and later a PMHNP have significantly shaped and defined this holistic approach to medicine and teaching.  
I also believe in practicing and teaching information that is based on the most current research evidence available, coupled with the ability to critically assess the research and it's application to practice. Therefore, I feel that it is important to encourage and help students to develop critical thinking skills, while at the same time stimulating their natural curiosity and excitement to learn about the fascinating field of mental health care. I feel fortunate to practice in a specialty that is as intriguing and as mysterious as the human brain and its dysfunctions/disorders. Mental health care is an exciting specialty in nursing that most students seem to enjoy! 
Welcome, Professor Proctor!
- September 2014