UW Interviews DNP Students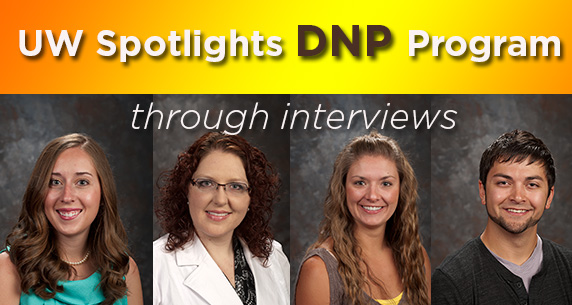 A University of Wyoming's press release this August spotlights the Fay W. Whitney School of Nursing's Doctor of Nursing (DNP) Program. Four DNP students (pictured above) deliver their insights regarding the school's unique program and its potential benefits for the state of Wyoming (scroll down for a selection of quotes from each of the four students and for links to each student's fuller article).
According to UW School of Nursing Dean Mary Burman, graduates from the DNP program will offer a unique set of skills to profoundly change health care delivery in Wyoming. Those distinct skills will mainly come from the program's emphasis on patient behavior changes, a unique focus when comparing DNP programs nationwide. To provide students with the skills they need to instill behavioral training in DNP students, notes the article, UW has added psychological training led by Assistant Professor Jenifer Thomas, PhD in Applied Social Psychology (with a Health emphasis). The strong focus on patient behavior changes attracts students to the program, says DNP Program Director, Ann Marie Hart. The program enjoy's the support of Wyoming's health care community, which has recognized the need to bolster both primary care and psychiatric care in Wyoming.
For the complete article, please go to http://www.uwyo.edu/uw/news/2014/08/uw-degree-program-expands-primary-and-mental-health-care-in-wyoming.html. Separate articles with student comments are linked with each student listed below.