2014 Thomas Lab Presents Research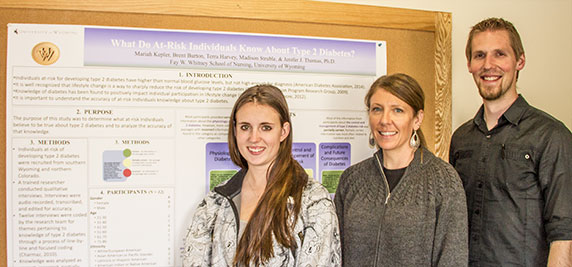 Above: (l-r) Mariah Kepler, Professor Jenifer Thomas, Brent Burton with their research poster presented
at the Western Institute of Nursing conference in Seattle, Washington.
----------
Nursing faculty member Jenifer Thomas makes a point to include undergraduates in her research on diabetes, hoping to generate enthusiasm for research in that population of nursing and pre-nursing students. Each year she invites students to apply as research assistants, maintaining a membership of four in her "Thomas Lab Research Team." This year's team consists of Mariah Kepler, sophomore; Brent Burton, junior; and Terra Harvey, Talisha Hobbs and Madison Struble, seniors. 
Each year, Thomas and her students prepare and present a research poster at the Western Institute of Nursing (WIN) national conference. This year's research poster is titled: "What Do At-Risk Individuals Know About Type 2 Diabetes?" The purpose of the study was to determine what at-risk individuals believe to be true about Type 2 Diabetes and to analyze the accuracy of that knowledge.
Thomas says, "This is the third year in a row that the Thomas Lab undergraduate team will present a research poster at WIN. I am so fortunate to work with motivated and enthusiastic students. This year, students who worked on the poster were both on and off campus. Over the past four months, students refined their research question, analyzed data, interpreted results and reviewed literature related to the project – a lot of work in a short amount of time. The students pushed themselves and each other to create a quality project–and were probably outside of their comfort zones on a few occasions. I am so proud of them and excited to see them present their work at WIN."
Mariah Kepler and Brent Burton made the trip with Thomas to WIN, held this April in Seattle, Washington. Says Kepler, "It has been a privilege and honor for me to be a part of this research team, especially given that I am currently just a sophomore. Dr. Thomas and the rest of the team have been outstanding mentors to me, helping me learn research techniques and increase my knowledge of nursing practices. It is rewarding to know that this research will ultimately improve nursing practices and patient outcomes."
----------
April 2014