Fay W. Whitney School of Nursing
College of Health Sciences
UW Spotlights DNP Program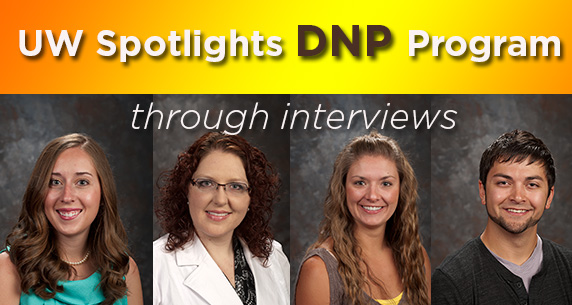 ---
A University of Wyoming's press release this August spotlights the Fay W. Whitney School of Nursing's Doctor of Nursing (DNP) Program. Four DNP students (pictured above) deliver their insights regarding the school's unique program and its potential benefits for the state of Wyoming (scroll down for a selection of quotes from each of the four students and for links to each student's fuller article).
According to UW School of Nursing Dean Mary Burman, graduates from the DNP program will offer a unique set of skills to profoundly change health care delivery in Wyoming. Those distinct skills will mainly come from the program's emphasis on patient behavior changes, a unique focus when comparing DNP programs nationwide. To provide students with the skills they need to instill behavioral training in DNP students, notes the article, UW has added psychological training led by Assistant Professor Jenifer Thomas, PhD in Applied Social Psychology (with a Health emphasis). The strong focus on patient behavior changes attracts students to the program, says DNP Program Director, Ann Marie Hart. The program enjoy's the support of Wyoming's health care community, which has recognized the need to bolster both primary care and psychiatric care in Wyoming.
For the complete article, please go to http://www.uwyo.edu/uw/news/2014/08/uw-degree-program-expands-primary-and-mental-health-care-in-wyoming.html. Separate articles with student comments are linked with each student listed below.
---
Chelsea Carter (Laramie, Wyoming) - click for full article
Carter says the strong emphasis on patient behavior changes attracted her to the DNP program, but that the rural aspect of the Wyoming program is also something she enjoys. "Working in rural settings is challenging, but offers opportunities to be creative. For example, we can utilize technologies such as telemedicine to provide patients with specialty health care services," she says. "Another reason I'm passionate about rural health care is the opportunity to build sincere, long-standing relationships with patients. Clinicians in rural communities have the opportunity to closely connect with and care for individuals over the course of many years."
Sheriedan Grannan (Cheyenne, Wyoming) - click for full article
When working for the Wyoming Department of Health, Sheriedan Grannan wanted to do more to contribute to her patients' overall health and was inspired to enroll in UW's DNP program. She believes the program's strong emphasis on health behavior change should be an integral part of primary care. "It allows people to make changes relating to health care that can prevent a variety of chronic conditions and promote wellness." Grannan says the DNP program is rigorous, "but well worth the hard work. The increased number of clinical hours over the former program has added to the educational experience."
Shandra Shepard (Rawlins, Wyoming) - click for full article
Shepard says the DNP degree "gives nurse practitioners the skills and ability to provide the highest quality of care and to be competent and confident providers." Like the other students, Shepard was attracted to the strong emphasis on patient behavior changes in UW's DNP program. She says changes are too often prescribed to a patient who has no intent on making the needed changes. However, "By focusing on the behavior change aspect," notes Shepard, "the patient takes the lead in making the change and working with the provider on developing an effective plan of care that is individualized to their needs."
Shawn Snyder (Casper, Wyoming) - click for full article
At one time Shawn Snyder worked in a homeless clinic, where he realized health care providers could influence the health and wellness not only of individuals, but of larger populations. "The provider working in the clinic managed patients holistically in order to foster improvements in their entire lives, not just their current health concerns. This showed me that there is more to being a health care provider than simply disease management." Snyder is attracted to rural communities, "being able to see the impact you can have as a provider on the health and wellness of an entire population, which may be more difficult to measure in a larger setting," he says.