Nurse Leader in Professional Association
Leadership in Nursing Series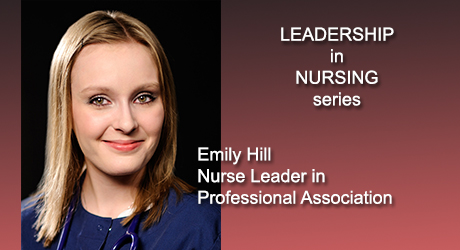 NOTE: On September 15 each fall, the University of Wyoming Fay W. Whitney School of Nursing mails out the school's annual Alumni Newsletter magazine/publication. The theme of the 2016 issue: Leadership in Nursing. The following spotlight is taken from that publication, where the goal is to recognize nurse leaders in diverse roles. Return to the web weekly for spotlights on other nurse leaders in their respective roles.
----------
Emily Hill, RN, BSN
Nurse Leader in Professional Association:
"I have enjoyed serving as president of the University of Wyoming Alumni Association Nursing Chapter," says Emily Hill, "as a way to give back for an education for which I am extremely grateful." Hill says she believes that engaging nursing students is paramount, "So I enjoy being involved with them, letting them know of opportunities they have as nurses and as UW graduates."
Leadership in appreciating her alumna mater
Hill is a strong promoter of University of Wyoming nursing: "Even though we UW Grads are from a small school, it is important to know that we have clinical hours and a strong program to rival any." Hill confidently adds, "UW grads are absolutely qualified and capable to work anywhere!" As a case in point, we should mention that Hill works for the Mayo Clinic, one of the top medical practice/research groups in the world.
Leadership through mentoring
Hill says she enjoys mentoring students into exciting nursing careers, defining her leadership style. But Hill's style also includes leading by example: "I hope my leadership in UWAANC will set a positive example of remaining engaged and giving back to UW and students after graduation."
----------
Story posted 9/02/2016