Nurse Leader in Military Nursing
Leadership in Nursing Series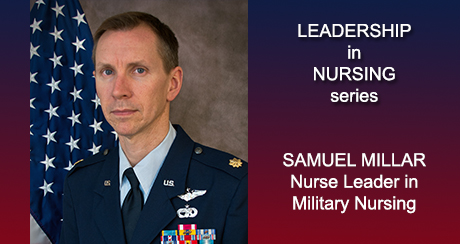 NOTE: On September 15 each fall, the University of Wyoming Fay W. Whitney School of Nursing mails out the school's annual Alumni Newsletter magazine/publication. The theme of the 2016 issue: Leadership in Nursing. The following spotlight is taken from that publication, where the goal is to recognize nurse leaders in diverse roles. Return to the web weekly for spotlights on other nurse leaders in their respective roles.
----------
Samuel Millar, Maj. USAF AFMC USAFSAM/ETT
Nurse Leader in Military Nursing
Military Nurse Leadership: leading more than a team of nurses
"As an aeromedical evacuation nurse educator," says Maj. Samuel Millar, "I am fortunate to be in a position to positively shape the future of Aeromedical Evacuation in the Air Force. Military nursing leadership is not just leading a team of nurses; it's leading a team of multidisciplinary individuals from different backgrounds such as nursing research, flight medicine, and medical technicians."
Leadership: knowing how to motivate
Miller gives his definition of leadership: "Leadership is an art and science geared toward influencing and motivating personnel to accomplish the mission! It's being flexible enough to understand and develop a group of individuals, define tasks, and set realistic goals while motivating them toward accomplishing those goals." Miller continues by giving an example of leadership in his own career: "As a leader I have assisted in forging advancements in how we educate our future flight medics and warfighters as aeromedical evacuation crew members."
Leadership: strong vs. ineffective
"Strong leadership is a requirement in the military," notes Millar. "You motivate your people…leading by example and leading from the front, while maintaining integrity, discipline, and a good moral compass. Ineffective leadership in aeromedical evacuation can damage equipment, lead to mission failure; or worse, can get people killed."
----------
Story posted 9/02/2016