Nursing Faculty and Staff Awards 2018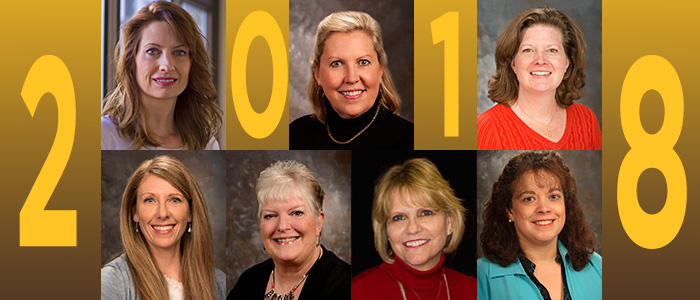 Pictured:
top row l-r: LeAnn Amen-McConnell, Shelly Fischer, Denise Gable.
bottom row l-r: Jenifer Thomas, Marilyn Hall, Holly Miller, and Sherrie Rubio-Wallace.
----------
University of Wyoming Nursing Faculty and Staff Recognized
Congratulations to the seven nursing faculty and staff pictured, who were honored late spring 2018 for a broad spectrum of reasons! Scroll down for descriptions of each individual's particular award...
----------
Page updated 7/16/2018
LeAnn Amen-McConnell
LeAnn Amen-McConnell won a UW "Staff Incentive Award" at the annual UW Staff Recognition Day in March of 2018! LeAnn is nursing advisor/credentials analyst for the ReNEW and RN-BSN Completion options in the Bachelor of Science in Nursing program. She's had a challenging job, since ReNEW is a new state-wide program, and the RN-BSN Completion has undergone a complete restructure this year. Her knowledge of the UW system and her concern for students have made her an invaluable asset in this UW nursing program. We're grateful to have LeAnn aboard! [More about Amen-McConnell, click on her name in the title of this article.]
Denise Gable
Gable, business manager for the UW Fay W. Whitney School of Nursing, won a Wald Award given out by the school in April. The award will support her attendance at the American Association of Colleges of Nursing (AACN) Business Officers of Nursing Schools Conference in Seattle, Washington. [More about Gable, click on her name in the title of this article.]
Shelly Fischer
Fisher, assistant professor, won the Sharron S. Humenick Award in April for development of the Safety-Specific Transformational Leader Behavioral Assessment Instrument. Also that month, Fisher won the Wald Award, which will support her attendance at the Institute for Healthcare Improvement Forum in Orlando, Florida. [More about Fischer, click on her name in the title of this article.]
Marilyn Hall, MSN, RN
Marilyn Hall, nursing faculty, was honored at the College of Health Sciences Faculty Awards ceremony in April with the CHS Faculty Award for Outstanding Teaching in Geriatrics. Hall made significant and valuable contributions in clinical teaching, is recognized for her compassion for the geriatric population and her passion for teaching nursing students in long term care, assisted living, and memory care settings. She has enhanced the clinical practicum course for students by creating unique experiences to supplement their learning. She developed a new program in collaboration with the nursing director and staff at Spring Wind called "Adopt a Nurse." She has been determined to create a new teaching-learning approach that was very exciting for all the clinical teaching faculty. She also has invested in specialized continuing education and certification in geriatric care. [Read more by clicking on Hall's name in the title of this article.]
Holly Miller, MSN, RN, CNE
Miller was honored with the 2018 College of Health Sciences "Outstanding Career Achievement Award" at the April CHS award ceremony. She has 30 years of experience in nursing education with the University of Wyoming, starting out as the Learning Resource Center Coordinator, now the Clinical Simulation Center Coordinator, having continued in that capacity until her retirement this May. She added clinical instructor in 1996 to her job duties, supervising acute care medical-surgical clinical rotations. Over time, she became the undergraduate clinical coordinator, the school's OSHA officer, the clinical agency coordinator for Ivinson Memorial Hospital, and the Director of the Basic BSN and BRAND programs. Consequently, Miller's impact on the school of nursing has been substantial, essentially being the face of undergraduate nursing at UW for the past two decades. [Please read entire article by clicking on Miller's name in the title of this article.]
Sherrie Rubio-Wallace, RN, MS, FNP
Rubio-Wallace received the school's coveted "Communication of Wisdom" award at an annual school ceremony in April. She earned the award for sharing her time, knowledge, and expertise with faculty developing ReNEW curriculum/courses. [More about Rubio-Wallace, click on her name in the title of this article.]
Jenifer Thomas, PhD
Thomas won the school's Wald Award in April with support to attend the Motivational Interviewing Intensive Workshop in San Francisco, California. Thomas is an associate professor. [More about Thomas, click on Thomas' name in the title of this article.]