David Lucke Joins School of Energy Resources as Project Specialist to Support Research Centers
July 25, 2022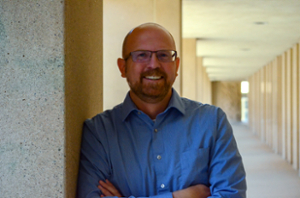 The School of Energy Resources (SER) is pleased to welcome David Lucke as a new project specialist. Lucke comes to SER with over 17 years of experience in managing major projects and research grant opportunities for the Wyoming State Geological Survey (WSGS).
In his new position, Lucke will be helping to alleviate some of the administrative burden on multiple high-profile projects in the research Centers of Excellence in order to maximize efficiency, streamline the application and reporting processes, as well as manage deliverables.
"I am very excited to be here and working with the SER team," says Lucke. "The energy of the people and the enthusiasm around the projects is infectious and I'm really looking forward to contributing to important new technologies and progressive research."
Lucke brings a wealth of knowledge in project management having spent an extensive portion of his career drafting and submitting proposals, writing technical reports, and overseeing the data management for federal grant opportunities.
Leveraging his expertise, Lucke will work directly with projects in the Center for Economic Geology Research (CEGR) and the Center for Energy Regulation and Policy Analysis (CERPA) to support efforts to advance carbon capture, utilization and storage, as well as the CORE-CM (Carbon Ore, Rare Earth and Critical Mineral) ventures.
"We are so very lucky to have Dave join the group," says CEGR director Fred McLaughlin. "His experience is unparalleled, so much so, that he has already made an impact in a short time."
Lucke grew up just across the state line in Fort Collins, Colo., but came to the University of Wyoming for his undergraduate degree and never left. He earned a Bachelor of Arts degree in Geography in 1999 and briefly worked for the Union Pacific Railroad before pursuing a master's Degree in Geography. He joined WSGS in 2005 as a geographic information system (GIS) and digital cartographer, before moving up through various roles while earning an additional bachelor's degree in Geology.
That geologic background, as well as his familiarity and experience with grant funding will allow him to thrive in his new position, formalizing the proposal procedure.
"The School of Energy Resources has a reputation for making innovative concepts a reality and I'm eager to see what the school can continue to accomplish and provide for the state of Wyoming and the energy industry," Lucke adds. "The more I can bring to the table to help make those projects happen the better."