UW's Holly Krutka Testifies Before US Senate Committee on Energy and Natural Resources
July 19, 2022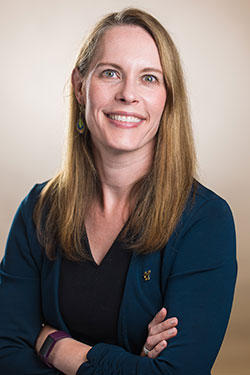 Holly Krutka
Holly Krutka, the executive director of the University of Wyoming School of Energy Resources (SER), testified before the U.S. Senate Committee on Energy and Natural Resources this morning (Tuesday).
The hearing examined federal regulatory authorities governing the development of interstate hydrogen pipelines, storage, and import and export facilities. The hearing was livestreamed, and an archived video will be available later on the committee's website along with witness testimony.
"I am grateful for the opportunity to provide a Wyoming perspective on hydrogen," Krutka says. "SER leads and supports research programs focused on energy technology development, and we see hydrogen as a promising part of Wyoming's and the nation's energy mix. I was pleased to share with the committee some of the unique attributes that make Wyoming an ideal location to demonstrate and commercialize hydrogen technologies."
In her testimony, Krutka provided an overview of the ongoing projects related to a hydrogen economy currently at play in Wyoming, as well as the activities of SER's newly launched Hydrogen Energy Research Center.
Sen. Joe Manchin, D-W.Va., chairs the committee, and the ranking member of the committee is Sen. John Barrasso, who has served on the committee since 2007.