Doctoral Candidate Zuhao Kou Wins Top Honors in Society of Petroleum Engineers Student Paper Contest
August 26, 2022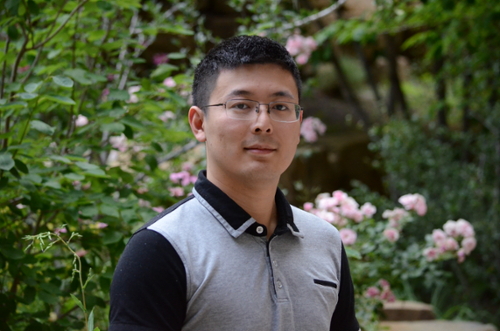 UW Ph.D. student Zuhao Kou, recently presented his research in the student paper contest at the Society of Petroleum Engineers (SPE) for the Rocky Mountain Region, winning first place.
Funded by the School of Energy Resources (SER), Kou author a paper entitled, ""Impacts of carbonated brine-rock reactions on multiphase flow properties in upper Minnelusa sandstone: Implication for CO2 storage," which features the geochemical research he has contributed to the Wyoming CarbonSAFE project in SER's Center for Economic Geology Research (CEGR).
Originally from Nanchong, China, Zou is earning his Ph.D. in Chemical Engineering under the tutelage of Professor Vladamir Alvarado. Prior to coming to UW, he received his bachelor's degree in petroleum engineering as well as his master's degree from Southwest Petroleum University in China and has collaborated on multiple publications.
"Zuhao is a very talented, knowledgeable, and creative individual and collaborator," Alvarado says. "His inquisitive mind led to great research results, summarized in his publications."
Kou has been instrumental on the Wyoming CarbonSAFE project. His research has been focused on reservoir modeling, multiphase fluid flow, and properties of eolian sandstones to characterize how CO2 will behave in the target formations.
"It has always been a pleasure to work with Zuhao," says CEGR director Fred McLaughlin. "He was a focused and thoughtful student, and his research on fluid flow in sandstone really helped advance our understanding of carbon storage reservoirs."  
In additional to top honors, Kou has been invited to participate in the International Student Paper Contest to be held during the 2022 SPE Annual Technical Conference and Exhibition (ATCE). ATCE is known as the premiere event for discovering and exchanging the latest technical information for the energy engineering industry. The conference will take place in Houston in October.
"I would like to thank my advisor, Dr. Vladimir Alvarado, for his guidance and encouragement and CEGR of SER at the University of Wyoming for their support," says Kou. "I think the judges' decisions to name me the winner of this year's competition highlight the importance of the work that we are doing on the Wyoming CarbonSAFE project for the mitigation of greenhouse gas emissions. I am very proud and grateful to be a part of this championship."