Fire on the Mountain
April 12, 2021
"There's a dragon with matches that's loose on the town.
Takes a whole pail of water just to cool him down." – Robert Hunter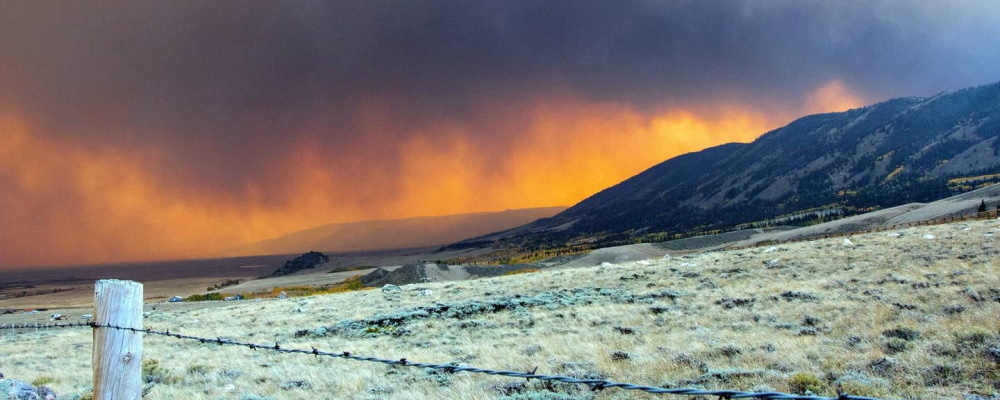 Mullen Fire on October 4, 2020, in Centennial, WY
Photo by: Jennifer Kirk
---
By: Harry L. Whitlock II
Last September the normally clear air of Laramie Valley became grey and acrid when the Mullen Fire blew up in the Medicine Bow National Forest west of Laramie. While wildfires in the Western US now seem commonplace, their regularity doesn't remove the anxiety these fires cause people whether you live in the city or country. Our sinuses, lungs, and eyes were irritated. We hunkered down inside our houses with windows closed tight, wondering when the blue skies and clean air would return. But some of us in the community were asked to help contain the fire. We headed westward to go put the wet stuff on the red stuff.
A friend asked about my Mullen Fire experience. The short answer was I worked a lot of hours digging fireline, laying and rolling hose, spraying water, assembling sprinklers, and watching the fire burn. An elevator speech version limits the real story about what a wildland firefighter experiences, though. Rather than a quick synopsis, I wanted to tell my friend a good story, which I share here.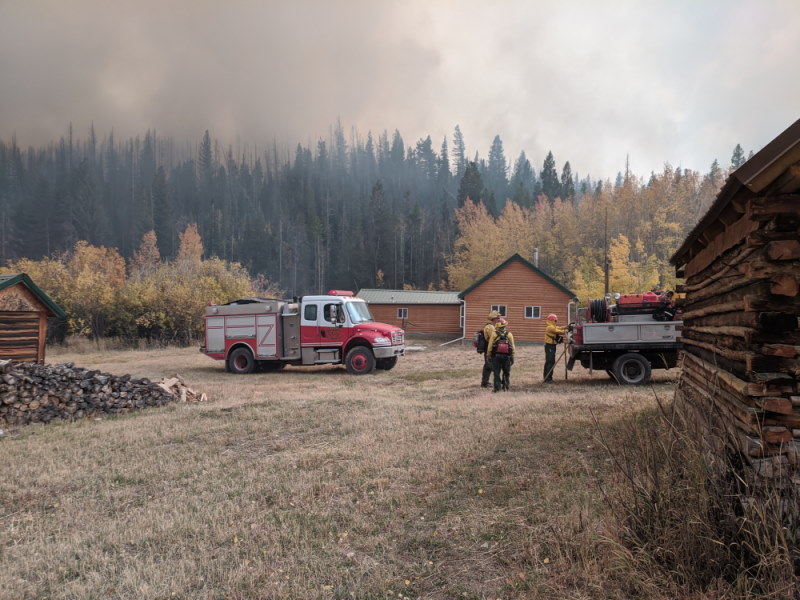 Mullen Fire - Vedauwoo and Big Laramie engine crews working together for structure protection near Albany, WY
As with most things, there is not a simple answer about what wildland firefighters do. There are so many jobs on a wildfire incident that to explain all the different work being done would fill a book. I went out on Mullen as a "Fireline EMT" with an engine crew. That means I used a shovel or Pulaski to dig line. I carried hose and assembled sprinklers like everyone else on the fire engine. I also was prepared to provide medical aid. Fortunately, the only emergency medicine I got to practice was bandaging minor cuts and blisters. My tourniquets and Israeli bandages stayed packed and unused. No one got stupid with a chainsaw or lost an argument with a falling tree.
Remember how the Mullen Fire quickly grew so fast? In one week after its discovery, the fire had grown to over 69,000 acres. By the time it was declared "suppressed" about a month later, more than 176,000 acres of forest and wildland in Wyoming and Colorado were burned. It is ranked as one of the largest fires in Wyoming history. Over 60 structures in the area were damaged or destroyed.
There was a lot of perimeter to control to contain and suppress that fire. At one point the fire became a Type-1 incident. This is the highest level of wildland incident. Several hundred people from all over the US came to Albany County to get the beast under control. These were seasonal and hotshot fireline crews, full-time wildland firefighters, and fire engines. There were professional incident managers with FEMA and the US Forest Service, as well as dozens of aircraft from around the US working around the clock to suppress the fire. But there were also a lot of volunteer firefighters from Albany County departments that responded to the incident.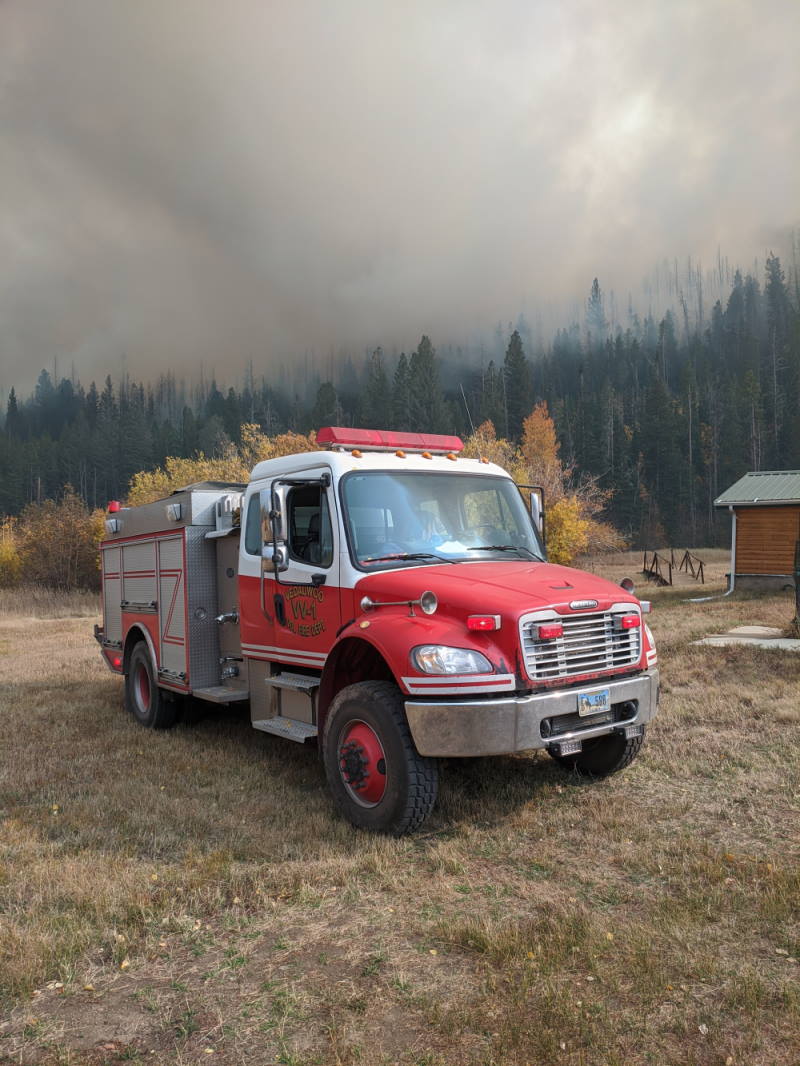 Vedauwoo Engine VV-1 at Mullen Fire near Albany
The local firefighters who responded to the Mullen Fire include several who work at the University of Wyoming. As volunteers it is often difficult to get time off, especially during the active semester, to go "eat smoke." Fortunately, UW leadership across campus fully supported the deployment of UW employees who are members of Vedauwoo, Big Laramie Valley, Centennial, and Central Volunteer Fire Departments in Albany County.
Local volunteer fire departments in Albany County provided some of the firefighters during the early part of the Mullen Fire. However, as more resources poured in, the local VFDs assumed a stand-by mission. "Surge" teams were created to respond within a few hours if the fire blew up again, driven by high winds.
On October 6, the winds were gusting again. The "Surge 2" team was comprised of engines, tenders, and crews from Vedauwoo, Big Laramie Valley, Central, Centennial, Tie Siding, and Rock River. We met near Albany to get our assignments. We did not integrate with the main incident camp up on Fox Creek Road, which was fortunate because cases of COVID-19 were affecting people in the camp.
We were put up in cabins by the management of the "Table in the Wilderness" camp in Centennial. Usually, at a fire camp, you sleep in a pop-up tent on the ground. Sleeping on a bunk, even if only for a few hours before rolling out the door for the swing shift briefing, was so very nice. The "Table" crew fed us breakfast as we headed to the fire, but they also prepared an evening meal that was delivered to us on the line by our team leader. Honestly, I had not eaten so well in a long time because of the closure of restaurants in response to COVID-19. It was almost like eating al fresco but with a lot more smoke.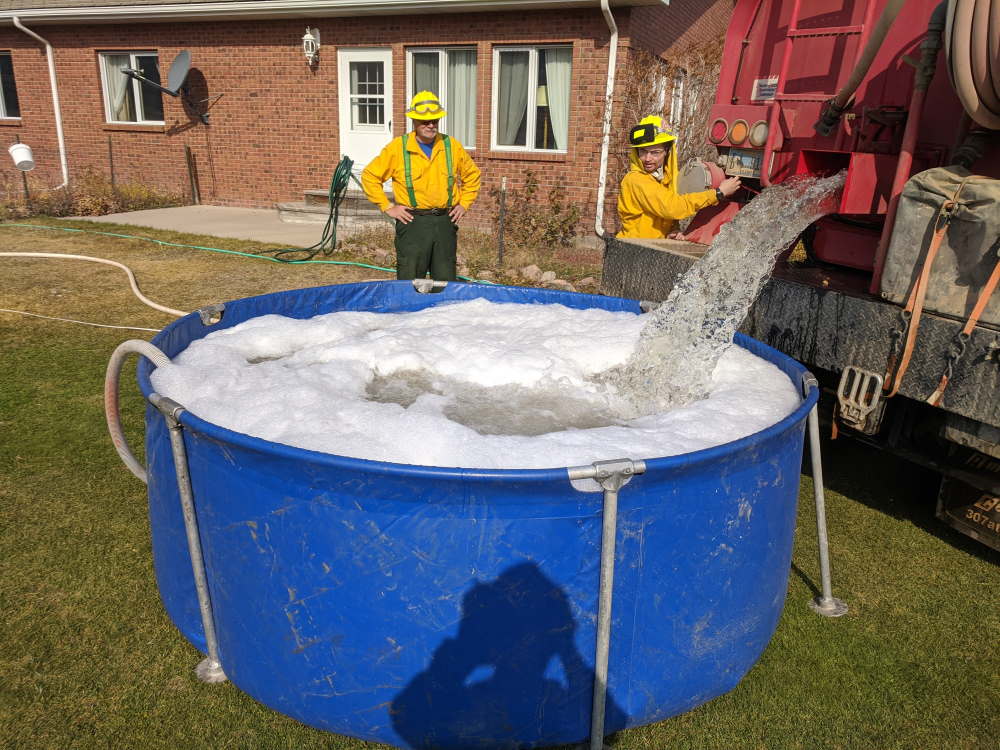 Mullen Fire tender filling drop tank
It was good that I worked strenuously and burned off those calories. As a swing shift, we would work from 9ish to around 10 p.m., although there were a couple of nights we were out until past midnight. The surge team's main function was structure protection and quick response fire suppression. Each engine was assigned a specific sector with houses, barns, or other structures. Our mission was to set up sprinklers, watch for and fight spot fires, lay hose in preparation for putting out fire, and above all, be safe!
Vedauwoo VFD (VVFD) deployed a Type-3 engine and our 4,000-gallon tender. Three of us were in the engine, which is a rugged off-road vehicle with a 500-gallon plus tank and the ability to pump water and foam. We set up structure protection by installing sprinklers and cutting back flammable material. We would respond to calls for suppressing spot fires that would pop up when the day got hotter and the winds would carry embers for miles. 
The tender had two crew members from VVFD. They were assigned to continually haul water from a site near Albany to the buildings where structure protection measures were implemented. Portable 800 to 1,000 gallon tanks with a pump pushed water through sprinklers to keep the vegetation wet. But those pumps were thirsty and it was a non-stop mission of the tender crews to keep the tanks full.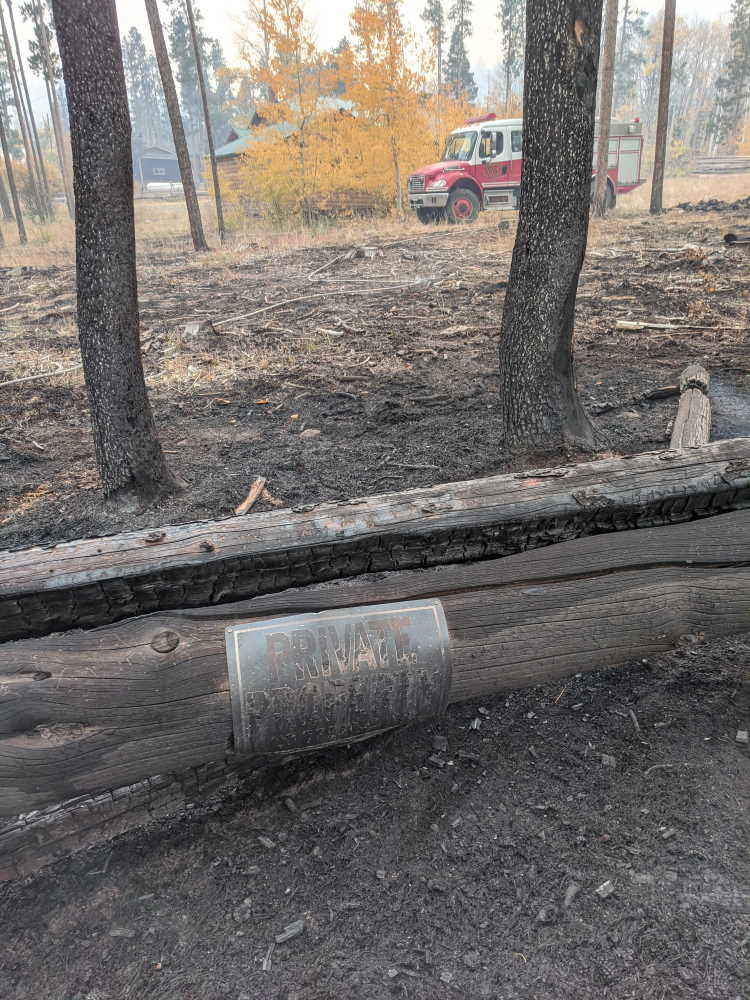 Mullen Fire - burned out area in Albany behind firehouse
Twice our engine was sent to a spot fire that started behind the fire station in Albany. It's kind of ironic to respond to a fire behind a fire station. We put in fireline and quenched spot fires that popped up in that location. It would have been a stroke of bad luck for a fire department to burn down but we chased bad karma out of town. 
It is amazing how the fire seems to have a life of its own. An ember can stay alive for miles drifting on a wind current. You would think it would burn out, but the ember can be hot enough that when it lands it will ignite a new fire. Fire will also burrow into the duff like an animal hibernating ("duff" is the decayed needles, bark, etc. littering the forest floor). Duff in a lot of the Medicine Bow area is at least a few inches deep and sometimes a couple of feet deep. This is because of the decades of fire suppression. It builds up year after year, and you can't rake the forest as some have suggested. Once inside the duff, it smolders until the conditions are right for a flame. It took lots of digging and water to put out those potential fires.
Another interesting episode occurred one balmy afternoon when a controlled back burn got a little out of control. It blew up when the wind changed direction. The leaders and crews were fully aware of that risk and positioned several other engines and a road-grader near the burn-out area.
We watched the fire burn slowly towards us while parked near the house we were protecting. Suddenly the wind shifted and the flame-front ran towards us. We and other crews quickly put our engines in reverse and backed up about a hundred yards as the flames roared through the pine and aspen towards the edge of the trees and the open sagebrush. It was like an oven door had opened. The heat of the flame front ignited the grasses and sage immediately at the edge of trees and threw embers hundreds of feet out into the area. This immediately igniting more brush and grass fires.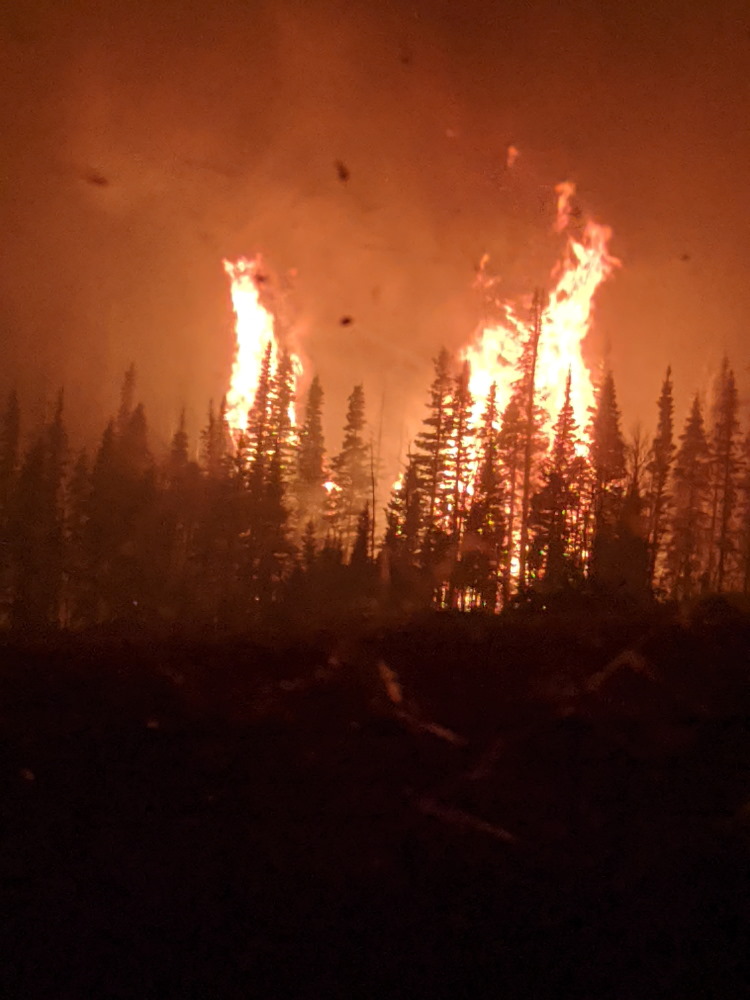 Mullen Fire - burn out blow-up
We put our apparatus in forward gear and rolled toward the fire along with other crews, using our on-board water and tools to battle the fires. The road-grader operator drove over the flames in the grass and sage, expertly using the dozer's blade to plow over the soil and snuff out the fire. That was something to see – a multi-ton machine operated with finesse while flames several feet high danced alongside. Now there's a heavy equipment operator who is a lionheart!
We spent several more hours that evening putting out hot spots in that area and came back the next day to put out a few more. Fortunately, the house we were assigned to protect was not damaged at all because we had installed sprinklers all around the property, fed from an 800-gallon portable water tank and pump.
Thankfully, the fire usually laid down at night as temperatures cooled and relative humidity increased. Still, the fires continued to creep through the forest and had to be watched. One night our engine crew worked past midnight in the Albany area helping protect some very posh cabins (more like mansions but surrounded by combustible matchsticks). My two crewmates and I spent several hours putting out a slowly creeping fire that was supposed to be laying down and going to bed. Yet, like a naughty teenager, it decided to stay up and play. We connected the pump on our engine into the pre-laid hoses and sprayed water on the embers glowing orange in the dark.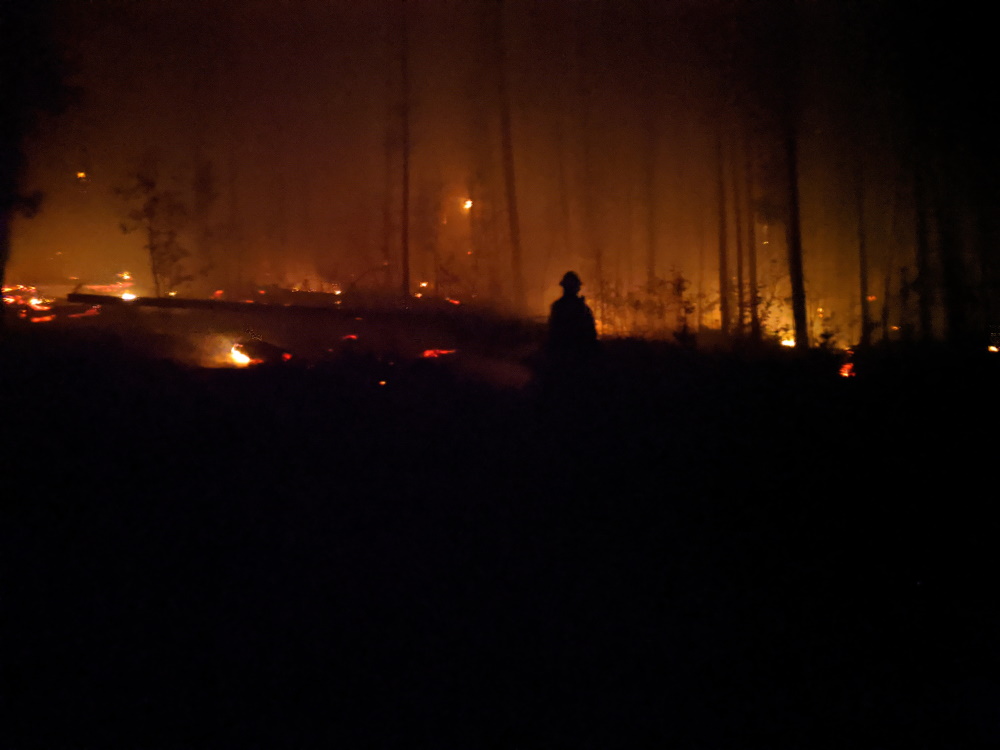 Mullen Fire - firefighting at night during structure protection
On October 11, Nature sent a storm our way. The moisture helped the crews to bring the fire under more control. We had been told that morning the engine and tender would be brought onto the incident. We were disappointed to be sent home right after starting to check in at the main camp. The incident commander had started sending crews from Mullen across the border to Colorado to fight other fires. Like it is in the military, it pays to be adaptable in the wildland fire service. Semper Gumby – Always Flexible.
Becoming a wildland firefighter after having retired from the Army has been a balm for my soul. I could not ask for a better group of people to hang out with late at night, or on a hot day, digging fireline and spraying water. It forges a bond of true community and service to others. Honestly, I think that the way back to a higher level of civility within our nation is for people to be more involved in activities that benefit the entire community instead of a small group. My advice? Quit looking at the phone screen. Get up, get out, get out of the door. Do something! You don't have to put the wet stuff on the red stuff. Just find your niche where helping others makes you feel better about yourself.
---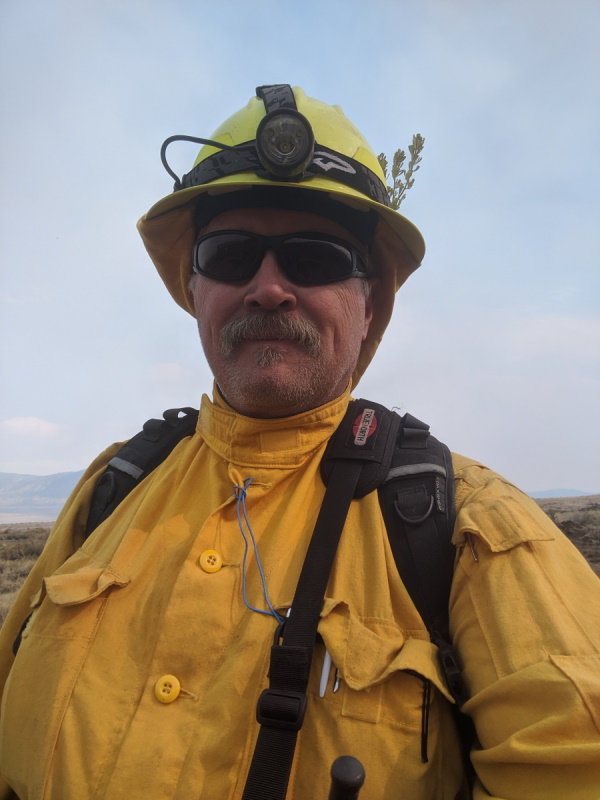 About Harry Whitlock:
Harry Whitlock is a Library Specialist in the Research & Instruction Department with UW Libraries. He is a retired Army officer, Wyoming native, and volunteer firefighter and EMT. He can be reached at hwhitloc@uwyo.edu
All photos provided by Harry Whitlock, unless otherwise noted.