Hathaway Scholarships
Stanley K. Hathaway
More than three decades after Governor Stanley Hathaway created the state's Permanent Mineral Trust Fund, whose income pays for state government operations, the Wyoming State Legislature adapted that idea to support higher education in Wyoming.
In 2005, state lawmakers created a scholarship fund with a $400 million permanent endowment, whose income funds scholarships for qualified Wyoming high school graduates to attend the University of Wyoming or any of the state's seven community colleges. They honored Hathaway's many contributions to the state and accomplishments by naming the scholarship program for him.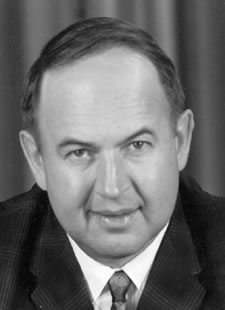 Born in 1924, Hathaway grew up without many advantages. While he may have had plenty of excuses to fail in life, he was anything but a failure.

After attending the University of Wyoming and serving his country in World War II, Hathaway returned to Wyoming and established himself as a successful attorney in Torrington following his graduation from the University of Nebraska. Later, Hathaway became Goshen County attorney and was elected governor of Wyoming from 1967-75.

At his 1970 inauguration, Hathaway said, "We must all work together to build a better Wyoming." The Hathaway Scholarship program makes attending college possible for Wyoming high school graduates who qualify with both merit- and needs-based scholarships. Participation in the Hathaway program has more than quadrupled at UW since its launch for the 2006-07 school year. This year, 3,732 students were awarded scholarships to the university, nearly 1,000 more than the previous year. The first awards in 2006 brought 857 students to UW.

Hathaway died in October 2005, at age 81.
Return to Scholarships Home