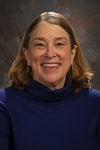 Emeritus Professor of English
frye@uwyo.edu
Biography
Susan Frye teaches courses in Early Modern and Renaissance literature and culture, including Shakespeare, as well as social theory. She uses an interdisciplinary approach to study early modern authors and women, including textual analysis, art and architectural history, feminist historicism, and material culture. She is currently writing a book on Mary Queen of Scots as author and politician. Dr. Frye enjoys skiing, hiking, camping, and theatre.
Education
Ph.D., Stanford University
M.A., University of New Mexico
B.A., Smith College
Selected Publications/Awards
Pens and Needles: Women's Textualities in Early Modern England. University of Pennsylvania Press, 2010; 2nd ed., 2013
Maids and Mistresses, Cousins and Queens: Women's Alliances in Early Modern England. Oxford University Press, 1999.
Elizabeth I: The Competition for Representation. Oxford University Press, 1993, 2nd ed. 199
To learn more about Susan's publications, click here.