ECTL Coordinator of Instructional Technology & Design, and Senior Lecturer in English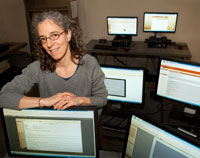 Hoyt Hall 313, megw@uwyo.edu
Education
M.A., University of Wyoming
B.A., University of Wyoming
Recent and Upcoming Courses
Writing in Tech and Science
Technical Writing in Professions
Select Publications and Awards
Publications
Heaney, April, Knievel, Michael, and Meg Van Baalen-Wood, "Breaking the Rules: Teaching Grammar 'Wrong' for the Right Results in Technical Communication Consulting," IEEE Transactions on Professional Communication, March 2010, pp. 58-68.
Van Baalen-Wood, Meg, "Beyond Circumcision," Wyoming Fence Lines: An Anthology of Prose and Poetry, Wyoming Humanities Council, Ed. David Romtvedt. September 2007, pp. 223-229.    
Wood, Meg, "The More Things Change . . . Technology Helps Lusk Retain Small-Town Lifestyle," HighTechWyoming.com, February 2000.
Van Baalen-Wood, Meg. "Re-envisioning Communication in the Online Classroom." Sound Instruction, Ed. Ben Varner (publication pending)
Van Baalen-Wood, Meg, "Pinpointing Style: A Systematic Analysis of Select Features in a Standard Technical Writing Assignment," In Talking about Style: Essays on Speaking Articulately about the Workings of Texts, Ed. Elizabeth Hodges and Dona Hickey, (publication pending).
Honors and Awards
2011    Hollon Family Award for Teaching Excellence in Off-Campus Programs, Laramie WY