Christianna Goodoff, RN, BSN
2011: BRAND Preceptor Recognition
University of Wyoming faculty and students work with "preceptors" - nurses who mentor our students in a variety of clinical settings. In 2010 our school introduced a new award to recognize preceptors, especially those who go above and beyond. Students will nominate preceptors for this award from each of our programs annually.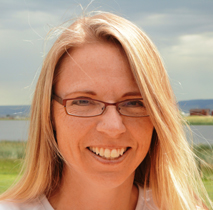 The preceptor chosen from the BRAND program is Christianna Goodoff, RN, BSN (BSN '08) from Wyoming Medical Center in Casper, Wyoming. The student who nominated her wrote the following:
"This preceptor gave me positive feedback and gentle correction. She supervised all my actions and encouraged me to perform all components of patient care with which I felt comfortable. For procedures I hadn't performed, she coached me through them. She is very thorough in all patient care. Her assessments and charting are very detailed. Her attention to hand hygiene is excellent. She adheres to the five rights of medication administration more than the required three checks. She is also a previous graduate of the BRAND program who succeeded in passing on many valuable skills and lessons to me. I can't think of anyone more qualified to be recognized as an outstanding preceptor."
Thank you, Christianna Goodoff, for partnering with the University of Wyoming Fay W. Whitney School of Nursing to educate the next generation of nurses!
below:  BRAND Program Coordinator Carrie Deselms and School of Nursing Dean Mary Burman congratulate Christianna Goodoff at the 2011 Nightingale Honor Ceremony on the University of Wyoming campus.